Did THIS Major Character Leave David Budd The USB On The BBC's 'Bodyguard'?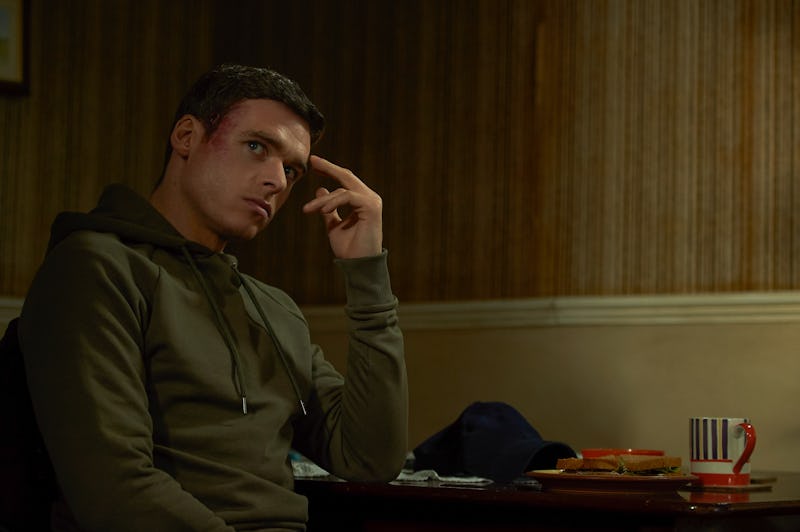 BBC/World Productions/Des Willie
Remember when Sunday evenings were a time for relaxation in front of the TV, the biggest tension coming courtesy of the Strictly results show? Thanks to BBC thriller Bodyguard, that pre-work week peace is no more; instead, each episode gives us a whole lot of unanswered questions to puzzle over. Who really planted the bomb that killed Julia Montague? That's if the Home Secretary is even dead. Can we trust the police, or the security services? And a seemingly minor, but potentially crucial one: who left David the USB on Bodyguard, and why?
Let's recap the events of the last episode. After the startling news of Julia Montague's death was announced (farewell to actor Keeley Hawes), Budd — played by Richard Madden — reached for his hidden gun. In a harrowing scene, the traumatised bodyguard attempted to kill himself. He survived, however, and quickly realised someone had entered his flat and replaced the bullets with blanks. And next to that gun, hidden in the ceiling beside a light fitting? A mysterious USB stick. So somebody entered Budd's flat — someone with the expertise to find a secreted gun in a pretty subtle hiding place — and not only switched out his bullets, but left him some presumably significant intel. Who was it?
The episode didn't linger too much on the USB, focusing on the investigation into the bombing that killed the home secretary. Home Office aide Rob McDonald fell under suspicion, after he was spotted on camera handing the briefcase (believed by investigators to contain the bomb) to now-deceased PR advisor Tahir Mahmood. But, as the Guardian recaps, there's a hint police commander Anne Sampson might have known about the exchange, plus ambitious acting home secretary Mike Travis seems to be involved, too. And then there's the small matter that Budd saw the contents of Mahmood's briefcase, and insisted there was nothing suspect about them — so could Mahmood have been set up, an innocent fall guy to distract from the real, sinister forces at play?
Budd, you'll recall, suspected the security services of searching his flat — and, by extension, swapping his bullets and leaving the USB. Considering how thorough the culprit's search must have been in order to find that gun, as well as their access to blanks, it seems obvious it was some sort of professional who entered his flat. But why would they incapacitate his gun? And, more mysteriously, why would they give him what I assume is some important information?
Whoever left the USB is presenting some seriously mixed messages: on one hand, Budd's too dangerous to possess a loaded gun, and on the other, he's important enough to receive major intel. Unless, of course, the USB is intended to mislead. It seems, however, that someone is keeping Budd alive and leaving him breadcrumbs in the hope he'll uncover something. Is this for his own good, or is someone using him as a pawn in a bigger scheme?
Twitter was abuzz with questions about that USB: firstly, fans just want to know what's on it:
But here's another major theory: some viewers suspect Julia Montague could, in fact, still be alive, and the USB's her way of revealing herself to Budd (unless he knew about the plot all along):
Was the USB planted by Montague to help Budd unravel the mystery? With one more episode to go, it's unlikely all of these questions will be answered tonight — and knowing Bodyguard, viewers will be left with a whole lot more to figure out. What new twists are in store for David Budd?