Who Lives In The Menendez Brothers' House Now?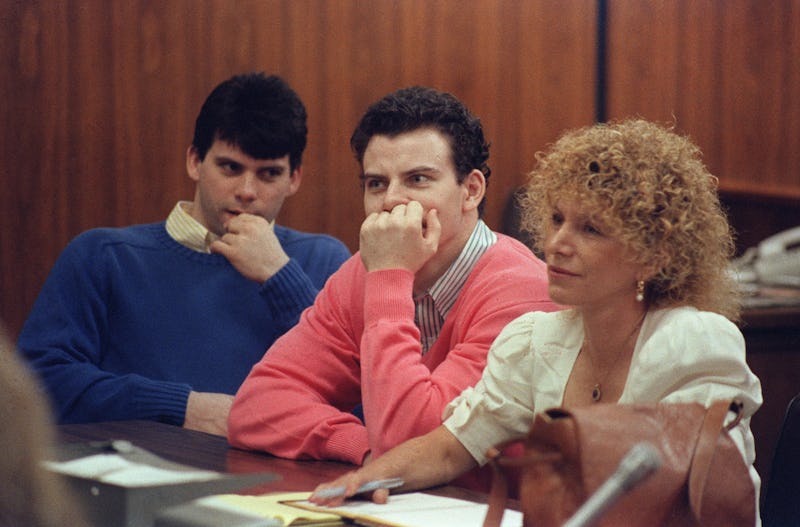 MIKE NELSON/AFP/Getty Images
It is alway horrifying to hear about a murder occurring in someone's own home. Home is supposed to be where we are safest. It is even more terrifying to hear of victims who were killed by their own children. Most people have at least heard about the 1989 case of this nature, where Kitty and Jose Menendez were murdered in their living room by their sons, Lyle and Erik. Now an ABC two-hour documentary about the case called, Truth & Lies: The Menendez Brothers will dive deeper into the brothers' lives and their parents' brutal murders. But, who lives in the Menendez brothers' former home today?
According to The Los Angeles Times, their Beverly Hills mansion is where the killings took place. Vanity Fair reported that it was "a six-bedroom Mediterranean-style house with a red tile roof, a courtyard, a swimming pool, a tennis court, and a guesthouse." It had previously been rented to A-listers like Prince and Elton John, reported VF.
The aforementioned LA Times article also reported that the Menendez family had a home in Calabasas that was being renovated at the time of the murders. The Times reported that the Calabasas house was later sold at auction to Raymond and Vera Stewart in 1994, who bid $1.3 million, well under the initial appraisal value of $2.65 million.
The family's other home, the Beverly Hills mansion, wasn't demolished after Erik and Lyle Menendez were sentenced to life in prison for their parents' murders. Since that fateful 1989 night, the mansion has passed through two owners. It was first sold to murder mystery TV writer William Link, according to Forbes. Then, in 2001, it was sold to a telecommunications executive named Sam Delug, according to Realtor.com.
According to Realtor.com, major renovations were done to the inside of the home in 2002, but the outside of it looks almost the exact same as it did the Menendezes lives there. It has since decreased in value, though, from the almost $4 million Jose and Kitty paid to $2.7 million.
Check out Truth & Lies: The Menendez Brothers on ABC, Jan. 5 at 9 p.m. to learn more about what exactly took place at the once-idyllic Beverly Hills home.