Saturday's "Free Speech" Rally In Boston Will Have A Pro-Date Rape Keynote Speaker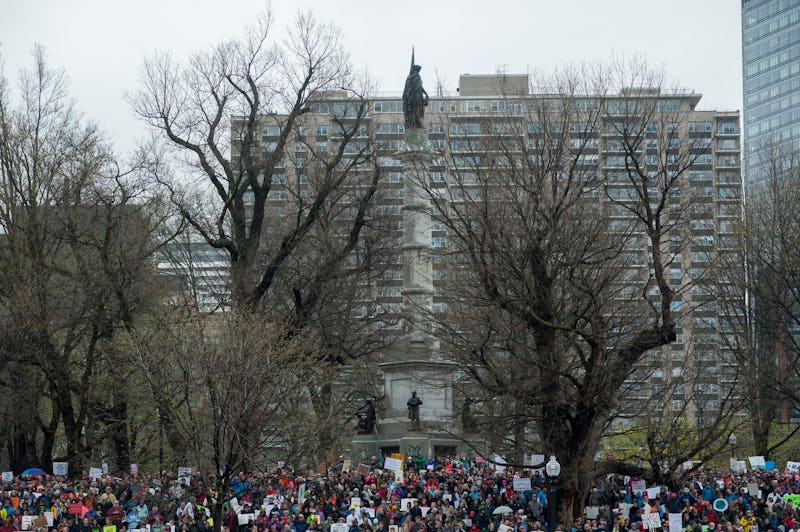 RYAN MCBRIDE/AFP/Getty Images
Less than a week after the violence in Charlottesville, Virginia, a similar rally will take place in Boston on Saturday, causing concern for city officials and anxious citizens across the country. The Boston "Free Speech" Rally organizers claim that the rally is about denouncing political violence, but in this hyper-sensitive political climate right now, there still may be altercations.
The rally was organized by a group called the Boston Free Speech Coalition, which seems to be a loosely organized collective of groups that identify as "libertarian" and "conservative," according to NBC News. John Medlar, one of the primary organizers, said that the rally is specifically about non-violence. "What we want to do is to try to get the left and the right to exchange words instead of fists again," Medlar told NPR affiliate WBUR. Medlar also posted on Facebook that he has invited the Boston chapter of Black Lives Matter to attend the rally.
But the sincerity of Medlar's sentiments are being challenged online. One amateur sleuth found an old post of Medlar's which he shared when he met Kyle Chapman, a so-called "alt-right" celebrity who became famous for beating a counter-protester with a stick during the protests in Berkeley earlier this year. Another commentator pointed out that one of the rally's keynote speakers, conservative pundit Joe Biggs, has openly advocated for date rape and violence against transgender people. Some members of the state chapter of the KKK are also planning to attend the rally, furthering obfuscating Medlar's claims about the intentions of the event.
Just like Tina Fey in her fabulous performance on Weekend Update Thursday night, Boston Mayor Marty Walsh is urging counter-protesters to stay away from the rally. "They say that interacting with these groups just gives them a platform to spread their message of hate," Walsh said during a press conference Thursday. "They recommend that people should not confront these rallies. So we're urging everyone to stay away from the Common." However, the events in Charlottesville last weekend have increased interest in activism for many people — over 11,000 people have said that they will be attending the counter-protest to the rally.
No matter what, the success of Medlar's rally will be limited — Mayor Walsh only approved a permit allowing 100 people to attend. But the rally may be eclipsed by the counter-protest, which means the whole situation has the potential to get very far out of hand.