You're Going To Love To Hate This New Addition To The 'OITNB' Season 6 Cast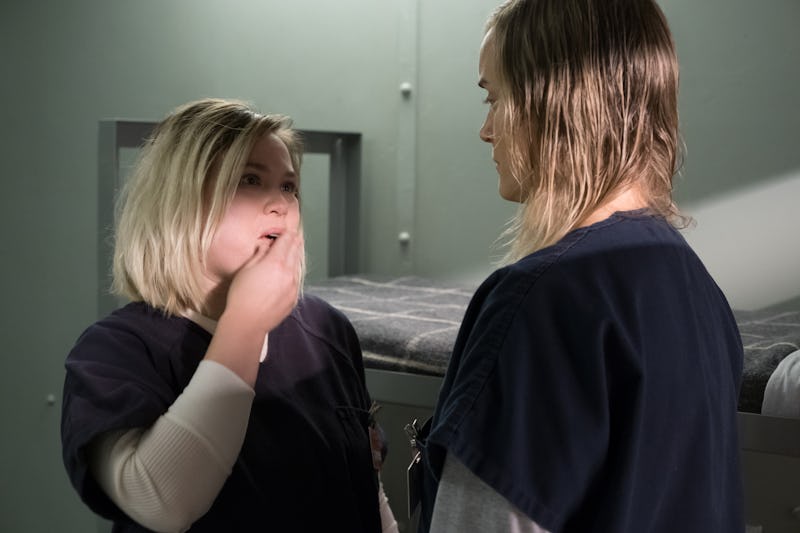 JoJo Whilden/Netflix
Making friends in general can be a difficult process. Making friends while in prison is a whole other ball of wax. Yet it's something our favorite Litchfield inmates will have to grapple with as they adjust to life in a maximum security prison — far away from the familiar social dynamics of Litchfield's "camp." One of the new faces they'll encounter will be Madison "Badison" Murphy, whose nickname already tells you a lot about her. But who plays Badison in Orange Is the New Black Season 6? Her name is Amanda Fuller and if you think she looks familiar, it's probably because she's already made a name for herself on the small screen.
Prior to nabbing a spot in the OITNB family, Fuller is probably best known for her role as Kristin Baxter in Last Man Standing. Additionally, she made a cameo appearance on Scandal as Carly Weston back in 2012 and snagged a recurring role on Grey's Anatomy playing Dr. Morgan Peterson. According to her IMDB page, Fuller's acting credits stem all the way back to 1993, and considering she's 33 years old, it's clear she's been part of the entertainment industry for quite some time.
In other words, she's a total pro and sure to deliver an unforgettable performance among the Litchfield women. But will she prove to be a friend or a foe for these characters? Viewers will just have to watch Season 6 to find out, though when you have a name like Badison, it can't lead to anything good, can it?
But even though Badison is still a bit of a question mark on-screen, Fuller is extremely active on social media, both on Twitter and Instagram. When she's not promoting her various projects, she's traveling or taking photos of her adorable dog or posting sweet messages about her family and friends. Oh, and that's not even mentioning her awesome hair color choices. Basically, she seems like a lot of fun and someone who would be really cool to hang out with in real life. Unfortunately, it's doubtful that Badison will share those endearing character traits.
Regardless of how Badison's journey plays out throughout the season, Fuller's future is looking very bright indeed. There's no denying that being on a popular Netflix series is great for any actor's career and could mean big things for her later on. That being said, future work isn't really something Fuller needs to worry about since she's also in the process of reprising her role on Last Man Standing, which was officially picked up for a seventh season by FOX after being dropped from ABC after a six-season run.
In fact, Fuller recently posted a photo of herself with her Last Man Standing costars Tim Allen and Nancy Travis with the Season 7 premiere date as the caption. So obviously, she's excited to be reunited with her other castmates. Let's just hope that she'll still be able to find time in her busy schedule to possibly return for OITNB's seventh season. Something tells me she'll be interesting to have around.