Playing Whitney Houston's Daughter Could Be This Young Actor's Big Break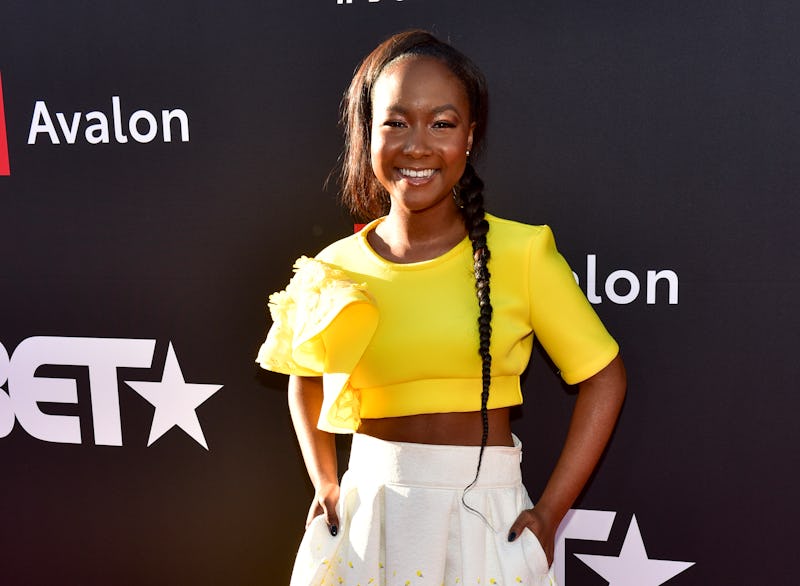 Rodin Eckenroth/Getty Images Entertainment/Getty Images
A two-night BET event premiering on Sept. 4, The Bobby Brown Story will add to the existing productions that document Whitney Houston's equally tragic and beautiful time in the spotlight. But this production will remain unique, as it reveals Houston's ex-husband, R&B artist Bobby Brown's side of the story. And that story, of course, includes the portrayal of the late daughter the two stars shared. Donshea Hopkins plays Bobbi Kristina in The Bobby Brown Story, and found the circumstances of her life difficult to comprehend.
"It's kind of a tear-jerker," 16-year-old Donshea Hopkins told Page Six at Black Girls Rock! about the role. "I feel like everyone looked at her as just the daughter of Whitney Houston and Bobby Brown instead of an actual person. Playing her was such a great experience — it was an honor to be her and to learn more about her as a person."
In July 2016, Bobbi Kristina was found in a drug-induced unconsciousness with her face immersed in water, and she later died in hospice care, per CBS News. Whether or not her death was accidental or intentional is undetermined, according to the same report, but its cause has uncanny resemblance to that of her mother's. Per ABC News, Whiney Houston was found dead in a bathtub on Feb. 11, 2012.
As for her daughter, the young woman's family apparently was aware of her struggle with substance abuse at the time of her death. "When we really found out that Krissy was in trouble, we were really making plans to do something about it," Bobbi Kristina's aunt, Pat Houston, told Entertainment Tonight. "But it came too late."
Hopkins may be fairly young, but Bobbi Kristina isn't the first emotionally heavy role she has accepted. Like many actors embarking on their careers, she guest starred in an episode of Law & Order SVU. She then moved on to carry the role of Cindy's daughter Monica in Orange is the New Black. According to her website, she got her "big break" as Raina St. Patrick in the Starz drama Power. She has also been featured on The Detour.
When she's not embodying the life of someone else on screen, Hopkins is a relatable 16-year-old. She orders burgers from Postmates, tweets Happy Birthday to Beyoncé, and slays the selfie game on Instagram. She also has a YouTube channel, titled "Donshea's Coven," that hosts a mix of her music (she's a rapper and a writer), beauty and fashion interests, as well as her personal life — including this adorable and touching video she made with her friends for Women's History Month:
The video starts with a casual group performance of Rhianna's "Work," to kickstart a conversation about inspiring and empowering hard-working women, and then Hopkins proceeds to give her friends advice on staying strong as a busy teenage girl in the entertainment industry.
According to her Instagram, Hopkins is also vegan and a native to New York. Oh, and if you have time to check out her IG story highlights, you'll have enough content to keep you entertained for a while. She's super interactive with her followers and uses the hashtag #talkwithdonsheatuesday on Tuesdays to keep the conversation flowing — whether that's about her work, her activism, or just another day in the life of Donshea.
And you can of course tune in to see her portrayal of Bobbi Kristina when The Bobby Brown Story premieres on BET on Sept. 4 at 9:00 p.m. ET.
If you or someone you know is seeking help for substance use, call the SAMHSA National Helpline at 1-800-662-HELP(4357).