Dylan From 'American Vandal' Is A Youtube Star IRL & He's Met Milo Ventimiglia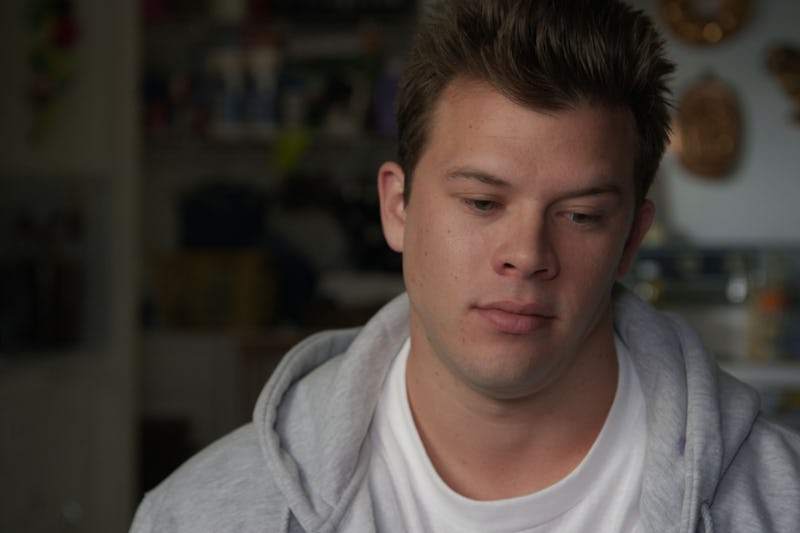 Courtesy of Netflix
If you're a huge fan of true crime, but find yourself rolling your eyes at some of the more dramatic scenes, the new Netflix original show American Vandal might be for you. This mockumentary, which is currently streaming on Netflix, follows the story of Dylan, a student who has been accused of spray-painting penises onto 27 cars in his high school's faculty parking lot, and those who believe he might be innocent as well as those who think he is definitely guilty. This hilarious parody is filled with a cast of newcomers, causing many fans of the show to wonder: who plays Dylan in American Vandal?
The side-splittingly funny actor's name is Jimmy Tatro, and if you think he looks familiar, it's probably because you've seen him in one of his hugely popular YouTube videos. The comedian started his career as a YouTube celebrity, creating his own sketch comedy channel Life According To Jimmy, where he hilariously skewers college and bro culture. Tatro was inspired by his experiences as a member of the Pi Kappa Phi fraternity at the University of Arizona, and his videos quickly went viral, launching his career. Some of his most popular videos feature a very relatable comparison of being at a party when you're drunk vs. when you're sober, and some hot takes on ninth grade sleepovers.
Other sketches of his even contain celebrity cameos, from Hannah Montana star Emily Osmet to This Is Us star Milo Ventimiglia. Now, the channel has about 2.7 million subscribers, and Jimmy has expanded into film and television. This feat is particularly impressive when you consider the fact that Tatro is writing, directing, and staring in most of his videos. It's not surprising that Hollywood would want to recruit such a multitalented comedian.
Some of Tatro's more recent roles include a cameo in Grown Ups 2 and the role of Rooster in 22 Jump Street. He also had a very meta turn in the film FML, which follows two internet stars traveling the country and documenting their adventures to try and get more followers. Tatro's character advises the aspiring stars how to become even more famous. I'm sure it was sound advice, coming from a true expert in that field. Tatro is slated to appear in the upcoming film Camp Manna, which also stars Gary Busey, as well as the comedy film Action #1.
But with this new starring role in American Vandal, Tatro is sure to be on your radar as a new face of comedy. His favorite topic seems to be making fun of "bro" and fraternity culture, drawing particularly from his own college experiences. That background makes him particularly suited to the role of Dylan, a student widely considered to be a Grade A idiot by most people in his class, and has a curious tendency to draw penises all over his high school. It's a perfect role for Tatro, and is sure to catch the eye of casting directors looking for new comedic talent.
His Instagram is also genuinely hilarious, and totally worth following. Whether he's telling a story about his drunken night out or posting selfies with zebras, Tatro should be your newest Insta obsession.
But if you love his Instagram, his Twitter is pure gold. He's constantly posting relatable content about awkward silences with Uber drivers and the long recovery process from that early high school wakeup call. Oh, and this super valid worry about people who bite their cheese sticks instead of peel them. Seriously, who are you guys?
After this huge Netflix role, it's likely that he'll be gaining a ton of new fans and industry attention. So, I would bet that we're about to be seeing a lot more of his life according to the real Jimmy — and American Vandal fans will be thrilled.
Editor's Note: This piece has been updated. It previously incorrectly referred to Tatro's fraternity Pi Kappa Phi as Phi Kappa Phi which is an academic honor society.