Laura Niemi Drew From Her Own Life To Take On This Tough Role On 'This Is Us'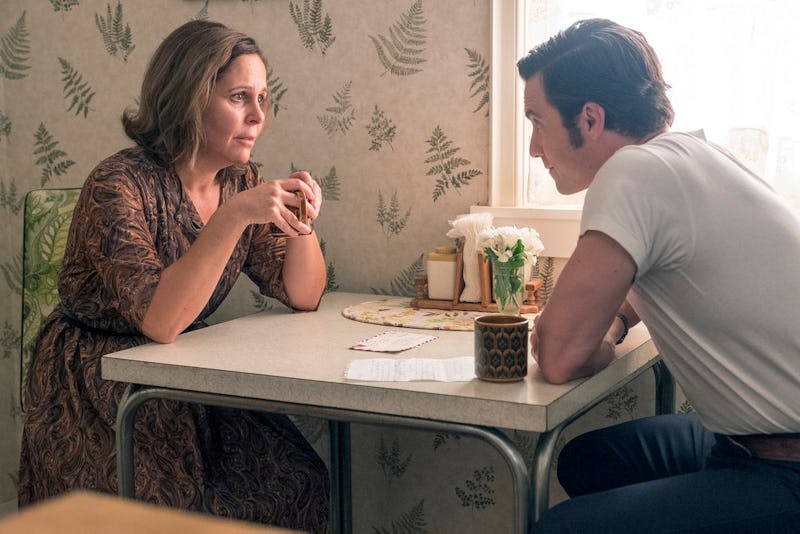 Ron Batzdorff/NBC
Jack may be long gone on This Is Us, but his character's backstory is front and center in Season 3. Jack's mom Marilyn on This Is Us is played by Laura Niemi, and she came back for this new season to help flesh out Jack's childhood story. Fans already knew that Jack's dad was an abusive alcoholic, but, prior to now, didn't see too much of Marilyn. Niemi has changed all that this season.
In the first few episodes of Season 3, Jack's brother Nicky's storyline came into play, and along with that came Niemi's "journey of now having two boys" on the show, according to an interview she did with People. Niemi said she was happy to be able to return to this character to help build out Jack's story. "[fans are going to be] able to see how he became who he is. I think it starts with our parents."
But returning to This Is Us also meant returning to Marilyn's abusive dynamic with Jack's father — which Jack eventually helped rescued her from this season by getting her out of the house and staying with a relative. Niemi told People that she drew on personal experience to play Marilyn. "I was in a relationship that was pretty toxic and just wanting to be able to get out and not having a voice. I was just in a dark place — I think a place a lot of woman have been in," the actor said. "I could relate to wearing those shoes when it came to Marilyn's marriage to Stanley. Also the subject of alcoholism was relatable. I've seen what it does and the hostages are taken under that disease. I knew her journey was going to be a tough one."
She added in a TV Insider interview that she's "honored to be telling this story" and thinks "it speaks to a lot of women."
Aside from Mandy Moore (Rebecca) and Jon Huertas (Miguel), Niemi is one of the few adult actors whom Milo Ventimiglia (Jack) gets to interact with — since his character's not alive in present day to act alongside the adult Big Three. And Niemi, like the rest of the cast, can't speak highly enough about her TV son.
"Milo is my boy. He's such a lovely and wonderful man. He makes my job so easy," she told People. "He's such a lovable guy and sets the bar so high with this character."
Outside of This Is Us, TV Insider reported that you can catch Niemi in the upcoming Netflix film The Last Thing He Wanted, where she plays a Washington Post reporter during the 1984 presidential election. And Before This Is Us, her IMDB shows that some of her more high-profile roles included playing a doctor on The Young and the Restless and Steve Jobs' secretary in the biopic Jobs. All her other work aside, Marilyn and This Is Us have a special place in Niemi's heart, because the flashback nature of the show is letting her be part of a generation she always admired.
"I always said I was born in the wrong era," she told People. "My best friend growing up was my grandmother ... I spent New Year's Eve with my grandparents. I just feel like I've always had an older soul and that period of time was such an incredible time. It was wonderful to dive into that period of history."
This Is Us continues to dive into that period of history and so much more Tuesdays on NBC at 9 p.m. ET.
If you or someone you know is experiencing domestic abuse, call 911 or the National Domestic Violence Hotline at 1(800) 799-SAFE (7233) or visit thehotline.org.