Mercy From 'Death & Nightingales' Also Starred In These Cool AF Cult British Dramas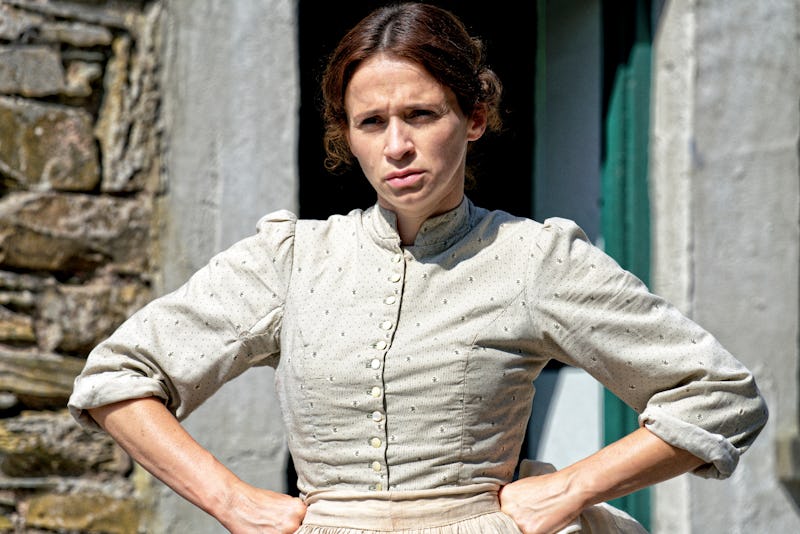 BBC/Night Flight Pictures Ltd 2018/Teddy Cavendish
The BBC Two Irish period drama Death and Nightingales made its on-screen debut last week, and already viewers are hooked on the TV adaptation of the 1992 Eugene McCabe novel. The new series boasts an impressive cast, including the likes of Hollywood star Jamie Dornan, but who plays Mercy in Death and Nightingales?
Well, according to the show's official IMDB page, the character of Mercy is portrayed by Irish actor Charlene McKenna. The actress was born in Glaslough, County Monaghan in 1984, and is perhaps best known for her previous roles in the 2008 television series Raw, and the 2012 crime drama Ripper Street, she has also had a few smaller parts in British dramas Skins and Misfits. As reported by the Guardian, the character of Mercy is in fact a maid, who is first introduced to viewers after giving lead character, Beth Winters (Ann Skelly), a present on her 23rd birthday. The drama is set in rural Ireland in 1885, and tells the story of a young woman who decides to escape her current situation.
The BBC previously released an official synopsis of the show. It reads: "Set over a desperately tense 24-hour period, it's Beth Winters' 23rd birthday - the day she has decided to join the charming Liam Ward and escape from her limited life and difficult and complex relationship with her Protestant landowner stepfather Billy. As decades of pain and betrayal finally build to a devastating climax, Death and Nightingales is a powerful and gripping drama that follows a woman struggling to control her own destiny and will illuminate tensions that tear both families and nations apart."
Death and Nightingales stars Ann Skelly as Beth Winters, Jamie Dornan as Liam Ward and Matthew Rhys as Ann's stepfather, Billy Winters. According to the Radio Times, when discussing his portrayal of Winters, Rhys said "Billy Winters is a very troubled man. Who lost his wife ten years ago in a horrific accident and raised his step-daughter on his own, sadly we're not quite sure when, but his feelings for his step-daughter have crossed over into a slightly dark place."
When speaking about her own character portrayal, actress Skelly commented "Playing such a strong character as Beth Winters is truly an actor's dream, and a fantastically intense challenge to be given the opportunity to play. And to get to work with such brilliant actors like Matthew and Jamie, and a director like Allan Cubitt, is just surreal to me. I can't wait to start."
Cubitt, the creator of the BBC Two series, chose to adapt this classic Irish tale after admiring the work of the original author. Upon joining the cast of Death and Nightingales, Dornan spoke of his excitement to work alongside the show creator once again, after previously working with Cubitt on the British-Irish crime drama series, The Fall. He said: "I'm thrilled to be reunited with Allan and his brilliant scripts to play such an intriguing character like Liam Ward."
Death and Nightingales continues on Wednesdays at 9 p.m. on BBC Two, and I can't wait to see how the story continues.