Lifetime's New Movie About Simone Biles' Olympic Journey Will Make You Tear Up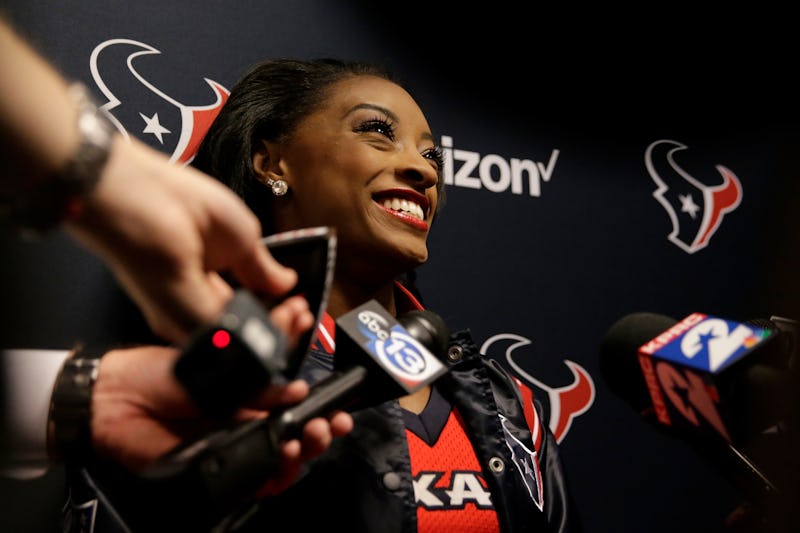 Tim Warner/Getty Images Sport/Getty Images
Simone Biles is America's most decorated gymnast, setting the record for most gold medals won in women's gymnastics at a single Olympic game and becoming the sixth woman ever to win an individual all-around title at both the World Championships and Olympic Games. With her sunny attitude and intense drive leading her to victory, it's no surprise Lifetime has made a movie based on the 20-year old talent. But with such a singular personality at the fore and gymnastic talent implied, casting could have been difficult. So who plays Simone Biles in Lifetime's Simone Biles Story: Courage To Soar? The answer is a young actor poised to break out into her own success story.
Simone Biles has been described by other giants in gymnastics, such as Mary Lou Retton, as the greatest gymnast ever. That's a tall order for anyone to step into, but Jeanté Godlock is up for the challenge. The actor had just three films under her belt when she signed on; The Simone Biles Story is her fourth, and it marks her second time in a starring role. At 4'11", Godlock stands only two inches taller than Biles, who's 4'9". Though Godlock's undergone years of dance and sports training, including some tumbling and handspring experience listed on her resume, that's not quite the same rigorous and intense training required for Olympic-level gymnastics. But on her personal Twitter, the actor shared a video of herself heading to special training for the film in Vancouver, where the story was filmed.
Lifetime's new film is based on Biles' book, Courage To Soar: A Body in Motion, A Life in Balance, a story of her personal history, love of, and difficulties with gymnastics. Starting with a field trip and talent scout spotting Biles at the young age of six, the book and movie follow her developing her skills and rising in her field. It also details the sacrifices and difficulties of pursuing sports greatness; practice comes before everything else, and qualifying events mean missing normal school life. There's also the tough decision whether or not to turn pro, as doing so disqualifies athletes from joining their college teams, and going pro at the Olympic level can be a lonely game that may even cause athletes to delay or forego college completely.
In the movie, Godlock captures these challenges, as well as others. After winning the bronze instead of a fifth gold medal for her balance beam performance at the Rio Olympics, for instance, Biles was only disappointed she hadn't performed the routine as well as she could have. Speaking to NBC, she said of the gold, "I think you guys want it more than I do. I just want to perform the routines that I practice."
Biles recently made headlines for a far more upsetting story; she was one of the over 100 victims of former gymnastics doctor Larry Nassar to come forward about his abuse. Speaking on NBC's Megyn Kelly Today, Biles said she feels like Nassar "took a part of me that I can't get back." Though the gymnast said she was disappointed by the lack of response from the United States Olympic Committee (she is the sixth Olympic athlete to come forward with abuse allegations against Nassar), Biles had nothing but praise for Judge Rosemarie Aquilina, who oversaw the case. Speaking on NBC's Today, Biles said Aquilina was "a boss and she was absolutely amazing", calling the judge a hero "because she gave it to [Nassar] straight and didn't let him get any power over the girls."
Godlock doesn't portray this part of Biles' life in the movie, as the allegations weren't included in the book and Nassar's trial just happened. But Biles' life is so much more than the abuse she suffered, and with The Simone Biles Story, Godlock will help share Biles' determination, joy, and triumphs.