Here's How This British Actor Learned To Play Football For His 'All American' Role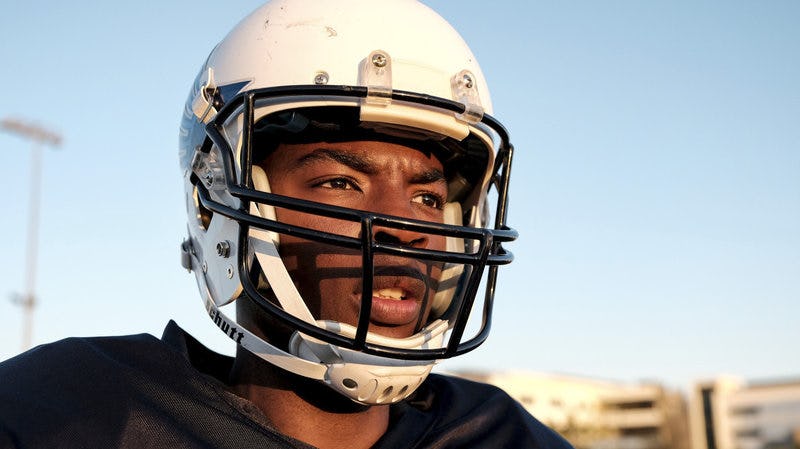 Eddy Chen/The CW
Taye Diggs might be the most well known name attached to The CW's newest teen drama, All American, but there's another actor whose chops are just as much on display. Daniel Ezra, who plays Spencer James in All American, is carrying a ton of responsibility and screentime on his shoulders, and he seems up to the task. On and off the field.
Ezra is a relative newcomer from the U.K. — only about a dozen projects are listed on his IMDB page prior to All American — but that doesn't mean you've never seen him before. He's had stints in shows such as Starz' The Missing and the BBC's Undercover, and in the first few episodes of All American, he shines as a Los Angeles high schooler trying to find his place in the world.
With Spencer, he portrays a teenage football player from a lower income school district who transfers to a much more wealthy Beverly Hills school district for a shot at making its football team outstanding, and at getting out of a dangerous environment. The story is actually loosely based on the real story of Spencer Paysinger, a former NFL player who had stints with the Miami Dolphins, New York Giants, New York Jets, and Carolina Panthers, so Ezra's inspiration is clear.
He took the role seriously to say the least — he even brushed up on his own football skills so he'd truly look the part of a skilled future NFL all star. "The real Spencer can't have his name on a football show and the football not look good," Ezra told the Los Angeles Times. "That made me feel the extra responsibility of wanting to look as comfortable in the film as possible. I bought a football, and I just carried the football around for like a month until we started shooting."
Apparently, it was enough to impress the real Paysinger. "Daniel, specifically, he's someone that I didn't know much about, I just saw his audition tape and realized he's a very strong actor," Paysinger told a local CBS affiliate. "When it comes to the takes he has on set, he's amazing. It's never about not getting the right thing from him or pushing him to get the right take on a scene — he's already doing that 100 percent of the time."
Early reviews suggest Paysinger isn't the only one impressed with Ezra's performance in All American. Daniel D'Addario for Variety called Ezra "appealing and effective," and praised the show itself, saying its "writers have ample plans for how to add interest to the concept, making All American a bright spot at the start of a moribund network-TV season." Linda Holmes of NPR wrote that even when given lines and scenes that are less than spectacular, Ezra's performance is "charismatic and appropriately tightly wound."
Ezra's going to be given lots of room to run with this role — both figuratively and on the football field — and if the first few episodes are any indication, he's showing no signs of slowing down.