"Who Said That?" Is 'RHOA's Greatest Gif(t)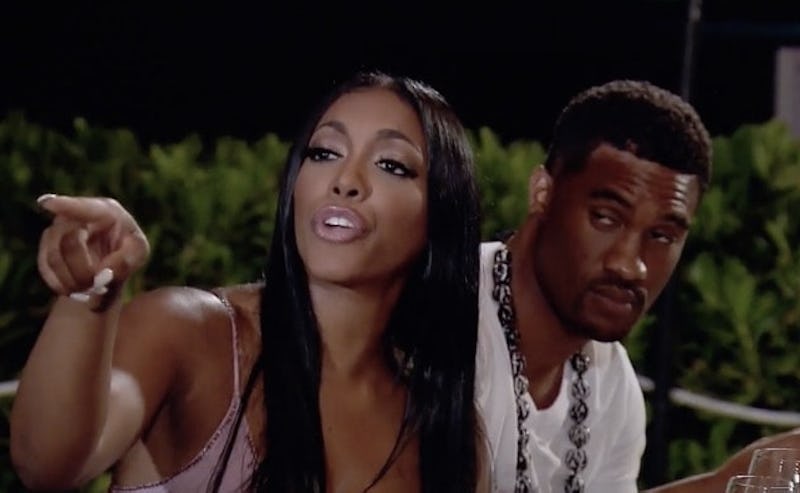 Bravo
In the teaser for the Real Housewives of Atlanta reunion special, Grammy Award-winning Housewife Kandi Burruss hysterically yells, "THE LIES! THE LIES!" to the trouble-making twosome affectionately known as "Frick and Frack." The pot-stirring artists, formerly known as Phaedra Parks and Porsha Williams, attempt to deflect their undeniable roles when it comes to salacious rumors about the married mother of two. But before I get ahead of myself, Burruss' belligerence stemmed from one of the most cringeworthy moments on RHOA that has evolved into arguably the franchise's funniest gif.
What started out as an unassuming group dinner during a "glamping" trip quickly escalated into an incredulous head-turning, finger-pointing match after recurring Georgia peach Marlo Hampton inquired about the rumors. Next thing you know Burress, Kenya Moore, and Williams created reality TV gold by each asking, "Who said that?"
Naturally, the ever clever voices of Twitter have repurposed the gif and original video clip of the unimpressed Burruss, shady Moore, and high-pitched Williams to apply to a number of timely scenarios. Sorry Sherée, but the era of "Who gon' check me boo" is through. NeNe's "I said what I said," is dead. Check out a few of the funniest "Who said that?" tweets to see why the entertaining moment deserves to be preserved online for all eternity.
When The Star Wars Fandom Is In Peril
Yeah, Luke. I don't think so.
When Nicki Minaj Tried To Speak For Beyoncé
Nicki posts an old Beyoncé clip and thinks she's immune from getting "SHEther-ed." Ha!
When Politicians Couldn't Follow Through
It works for any current event.
When Your Phone Puts You On Blast
*Crawls under a rock*
When Someone Comes For Queen Bey
No, really who would say such a thing?
When Twitter Updates Without Your Approval
There is such as thing as too many updates.
When Phaedra Couldn't Get Her Facts Straight
It even works for other RHOA scenarios.
The next time someone tweets that coffee isn't the best way to start the morning or a pint of Ben & Jerry's can't cure your broken heart, you'll have the perfect gif to send back.