A Twitter Employee Was Actually Behind Trump's Twitter Deactivation & The Internet Is Calling Them A Hero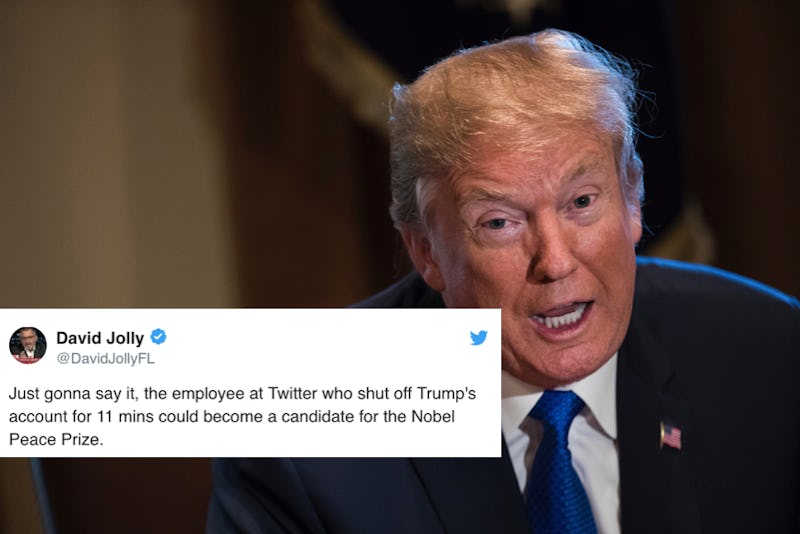 Drew Angerer/Getty Images News/Getty Images
Shortly before 7 p.m. ET, Twitter lost one of its biggest names. For about 11 minutes, the president's personal account was deactivated, with users unable to access the page. "Sorry, that page doesn't exist!" they read, leaving many wondering who was responsible. Maybe it was a hacker — or even Trump himself. But actually, an employee shut down Trump's Twitter account on their last day, and the move totally could have been deliberate. The San Francisco social media company says it is "conducting a full internal review."
"Earlier today @realdonaldtrump's account was inadvertently deactivated due to human error by a Twitter employee," the company posted to its own Twitter at about 8 p.m. ET. "The account was down for 11 minutes, and has since been restored. We are continuing to investigate and are taking steps to prevent this from happening again."
Then, about two hours later, the company shared more news. "Through our investigation we have learned that this was done by a Twitter customer support employee who did this on the employee's last day. We are conducting a full internal review," the second tweet read.
Early Friday morning the president's personal account seemed to be back, with the same 41.7 million followers.
There was no official explanation as to whether or not it was done deliberately. But that didn't stop the internet from largely surmising that it was. "Willing to bet a six pack it was an inside job, rogue employee who wanted to shut him down," wrote Derek Media, an executive editor at Vice.
"I need to very seriously tell you that the 70 seconds that Trump's twitter account went away were the happiest 70 seconds of my year," Cabel Sasser, co-founder of a company that makes apps, wrote, tagging @jack, the Twitter founder.
Some called the employee an American hero, or suggested awarding them the Nobel Peace Prize. Rep. Ted Lieu, a regular troll of Trump's on Twitter, offered to buy the person a pizza. "Dear Twitter employee who shut down Trump's Twitter: You made America feel better for 11 minutes. DM me [and] I will buy you a Pizza Hut pizza," he wrote.
Others pointed to the potential long-term usefulness of Trump's tweets, connecting them back to the Russia investigation.
"I don't want Trump's Twitter taken down. Every tweet is evidence. Keep tweeting, Trump. No one tell him Mueller can see them," Scott Dworkin, a fundraiser for the Democrats, wrote.
Not to be overlooked are some hilarious GIFs using scenes of people on their last day of work from shows like The Simpsons and Mad Men. No matter the analogy, the narrative that those on the internet are going with is some sort of disgruntled employee making the move as a form of protest on their last day at work.
Twitter has come under fire in the past for not deleting Trump's account. Some have argued he regularly breaks the social network's terms of service by threatening violence. For example, when he threatened to nuke North Korea with a tweet.
Twitter writes in their hateful conduct policy that "violent threats," "wishes for the physical harm, death, or disease of individuals or groups," and "references to mass murder, violent events, or specific means of violence" are all against the rules. Punishment can range from asking that a specific tweet be taken down to removal from the platform.
Trump has not been suspended and tweets like his "they won't be around much longer" comment on North Korea remains up on the site. Twitter explained in September that it wasn't being taken down because it's "newsworthy" or "in the public interest."
Perhaps this one Twitter employee decided it was more in the public interest to remove Trump from the service. Only time will tell.