Who You Should Call About The GOP Health Care Bill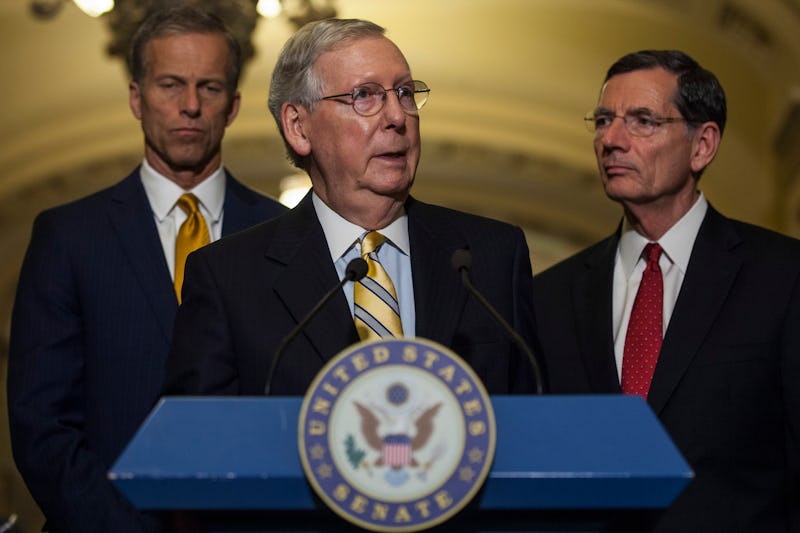 Zach Gibson/Getty Images News/Getty Images
The Better Care Reconciliation Act ― the Senate's Obamacare replacement bill, which ended up being even more draconian that the House's American Health Care Act from the perspective of protecting people from losing their health insurance ― was finally released on Thursday, and is weaving its way toward a vote at a breakneck pace. While it's not certain whether it has the votes to pass just yet, this much is clear: it's got a chance, and if it does it's likely to become law. So, who should you call to stop the BCRA?
The answer, at this late juncture, is pretty simple: you should be calling those Republican senators that are most on-the-fence about the bill, whether because they're in politically competitive states, or because their states rely on things like the Affordable Care Act's Medicaid expansion.
For convenience, you can visit TrumpcareToolkit.org, which has a list of on-the-fence senators and their corresponding contact information. At present, there are 14 senators on their "most likely to vote against Trumpcare" list ― Trumpcare, to be clear, is a catch-all term referring to both the House and Senate Obamacare replacement bills ― and with Senate Majority Leader Mitch McConnell reportedly eyeing a vote sometime next week, time is running out.
Here are the 14 Republican senators the site currently recommends targeting. The links lead to complete contact information for all of them, including both their national and state-level offices.
The Trumpcare Toolkit site specifically lists the senators' Capitol Hill phone numbers, although in the event you finish calling all of them, it might be worth putting in some calls to their state offices, too.
Some with relevant experience, like former congressional staffer Emily Ellsworth, have argued that calling state-level offices is the most effective means of getting your voice heard, all the more so if the call is coming from an actual constituent. Given that time is running out and the urgency of the situation is high, however, you might want to set aside the time to call al the offices you can, state and national alike.
As such, if you live in a state represented by one of these senators, or you know a friend or acquaintance or family member who does, now's the time to call in whatever favors you have coming to get those phone calls streaming in. If you're looking for contact information for both state and national offices, you can find it all through the official Senate directory website, or if your senator is listed above, just click the link.