Why Vince Vaughn's 'F Is For Family' Character Will Remind You Of His OG Roles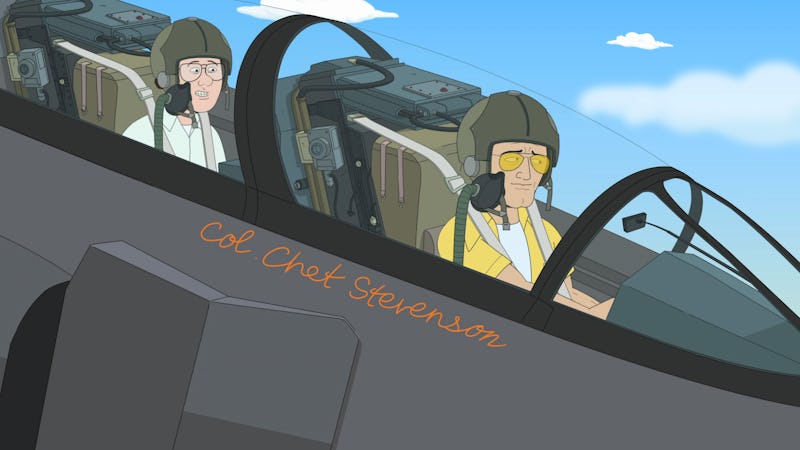 Netflix
Vince Vaughn has been an executive producer for F Is For Family since the show's premiere, but Season 3 will finally introduce him to screen — well, his voice anyway. According to Deadline, Vince Vaughn's F Is For Family character is Colonel Chet Stevenson, a new neighbor of main character Frank Murphy described as "a true man's man and a legendary Air Force fighter pilot." From the sounds of it, he'll shake up the storyline just by being there, but the fact that F Is For Family takes place in the '70s means that Frank will not only be living next to a pilot, he'll likely be living next to a Vietnam War veteran — which may prove to be complicated for the opinionated Frank, who is a Korean War vet himself.
Elsewhere in Deadline's report, Netflix explained that Chet is returning to "the local Air Force Base where Young Frank did his Air National Guard service" and that he "is everything Frank wishes he could have been." Chet also arrives at "a stressful time" for Frank, and, "with his new Vietnamese wife on his arm ... quickly becomes a major part of Frank's life and a huge force in the cul de sac."
Of course, it might not be all friction — the two men could end up bonding over their shared emotional baggage from serving in the war. Still, don't expect F Is For Family to slide into a dark BoJack Horseman-style examination of Post-Traumatic Stress Disorder. The crude comedy has always been far more interested in gags and punchlines than emotional catharsis, and while Vaughn's roles in projects like Psycho and True Detective prove that he's certainly capable of an intense and dramatic performance, his F Is For Family character seems more reminiscent of his roles in comedies like Dodgeball or Wedding Crashers.
Oddly enough, while Vaughn has an obvious flair for comedic roles, F Is For Family marks his first part in an animated show or movie in over 20 years. His last voice role in an animated show was in Disney's Hercules animated series, in which he played Loki for one episode that, according to IMDb, aired on Nov. 18, 1998. But while Vaughn may not have a lot of familiarity with voicing animated characters, he does have experience behind the scenes. And the fact that he was involved with F Is For Family for two whole seasons before stepping behind the mic suggests that perhaps there just wasn't a role that he wanted to lend his star power to until now — which means Colonel Chet must be pretty special, right?
Whether or not the character becomes a permanent fixture in the all-star cast, which also includes Bill Burr, Laura Dern, and Sam Rockwell, or will only be present for Season 3 remains to be seen. However, given Vaughn's comedic pedigree, it's safe to assume that F Is For Family fans will have plenty of laughs from Vaughn's performance for however long he's on the show.