Adrian Murfitt, A Las Vegas Victim, Loved To Play Hockey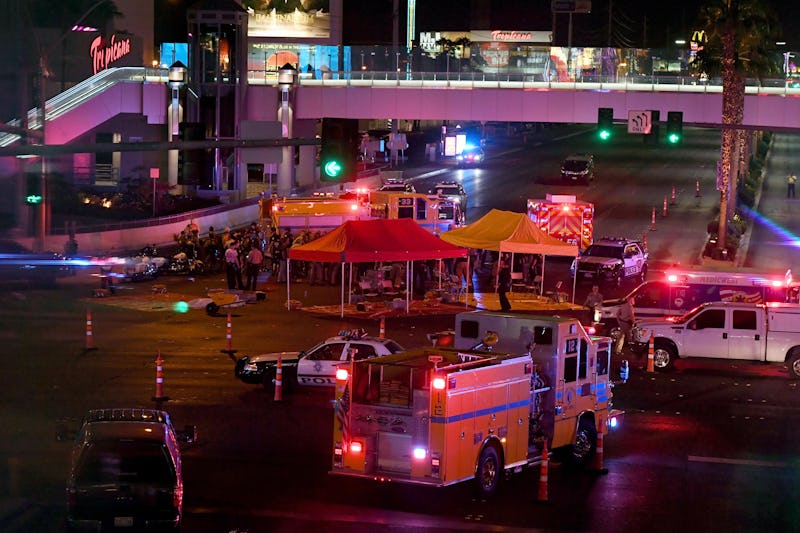 Ethan Miller/Getty Images News/Getty Images
On Sunday night, Las Vegas suffered the worst atrocity in its history, as dozens of people were killed and more than 500 were injured in a harrowing mass shooting. It's the largest mass shooting in modern American history, in fact, and it's left behind so many victims to mourn, and the question of how to prevent such acts of mass murder hanging in the air. This is also an important time for some memorials and remembrances, in other words, so if you've heard the name Adrian Murfitt and wondered who he was, local media from his home state of Alaska have offered up a clear and essential portrait of the man.
Murfitt was reportedly a commercial fisherman from the city of Anchorage, Alaska, and was in town for a country-western music festival ― the Route 91 Harvest festival ― that was interrupted by the massacre. According to the Alaska Dispatch News, Murfitt was at the Jason Aldean show with his friend and fellow Alaskan Brian MacKinnon went the shooting began.
One bullet reportedly ricocheted and struck MacKinnon's hat, sending it flying off his head. Another bullet struck Murfitt in the head, killing him. According to the Dispatch News, Murfitt's mother said both of them were part of a small contingent of Anchorage residents who made the trip.
Murfitt reportedly spent this summer working on a commercial fishing vessel in Chignik, a shoreside city along the Alaskan peninsula. To hear him tell it, MacKinnon initially resisted agreeing to attend the Vegas music festival, but Murfitt took the choice into his own hands by buying two plane tickets while he was in the bathroom.
He showed me the phone and he'd already bought tickets, and he was like, 'You're going.' I was like, 'I'm going.'
Murfitt, who reportedly enjoyed playing competitive hockey through his life, is one of a reported 59 people confirmed dead in the Las Vegas massacre, and with hundreds of people still hospitalized with injuries, that number might yet increase in the days and weeks to come.
After Murfitt was shot, according to a Facebook comment written by MacKinnon, he died in his friend's arms.
Sadly he died in my arms. I don't really know what else to say at this time. I'm really sorry.
According to the Dispatch News, MacKinnon further commented on the people who tried to save Murfitt in an interview on Monday, including doctors and first responders.
We were taking a picture and it went through his neck. ... There's a lot of amazing people — there was nurses, doctors, firemen. Everybody who was at that concert really jumped on it, did everything they could. We just couldn't save him.
Governor Bill Walker of Alaska offered his condolences to Murfitt's friends and family on Twitter, in addition to the family and friends of Dorene Anderson, another Alaskan who was slain in the shooting.
There has yet to be any official announcement made about what motive, if any, the suspected gunman had in committing this grisly massacre. Contrary to the claims of the Islamist militant group ISIS, which quickly claimed credit for the shooting on Monday, the Federal Bureau of Investigations has denied that there's any evidence to support that idea, and some counter-terrorism observers are viewing ISIS' claim as a sign of desperation.
In all, the shooting has claimed at least 59 lives, and has reportedly injured a staggering 500 more, hundreds of whom are still receiving care at local hospitals. It was the deadliest mass shooting since last year, when a gunman killed 49 people at the Pulse nightclub in Orlando, Florida ― an LGBTQ club, to be specific ― and injured dozens more.