Who Was Ava Le'Ray Barrin? The Trans Teen's Death Is Devastating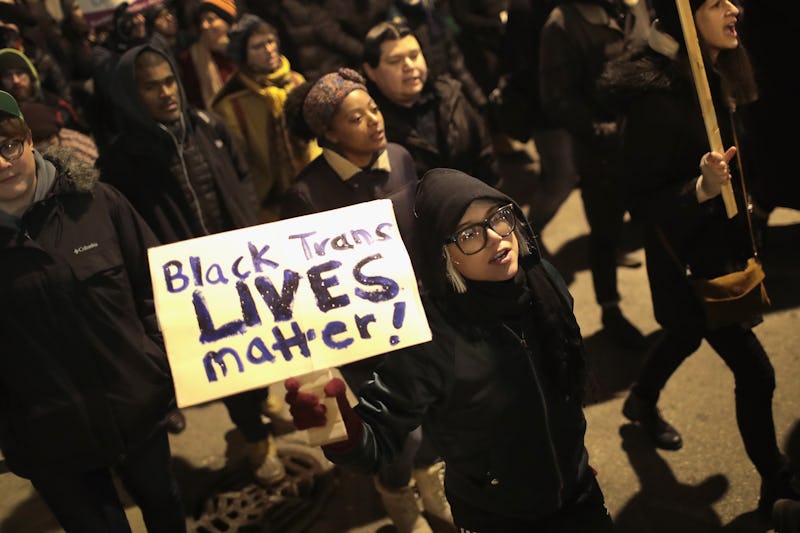 Scott Olson/Getty Images News/Getty Images
A 17-year-old black transgender girl was killed Sunday morning in Athens, Gerogia, after an argument reportedly took place with an acquaintance. The victim, Ava Le'Ray Barrin, is the youngest transgender person to be killed in 2017.
According to The Atlanta Journal Constitution, Barrin got into an argument with an acquaintance known as Jalen Brown in the parking lot of a residential complex. The police stated that during the altercation, Brown allegedly produced a gun and shot Barrin.
Brown claimed to have been acting in the interest of self-defense, according to the police, though The Athens Herald — which never referred to Barrin by her correct name — reported that the Athens-Clarke County Police Department did not believe Brown's claim of self-defense, given witness testimony and evidence garnered from the scene. Brown was charged with murder and aggravated assault.
Barrin succumbed to her injuries at the hospital. As friends and family mourn the loss of their dear friend, many remembered Barrin in warm and loving words. According to TransGriot, a news and opinion blog written by an African-American trans woman, a candlelight memorial service was carried out in Athens for Barrin on Monday evening.
According to Mic, those who had attended Barrin's candlelight memorial service noted how cherished and valued she was. Nickenson Guillaume, who organized the event, told Mic that Barrin "was happy in her own skin" and told her friends she was transitioning in December. In a heartfelt obituary dedicated to Barrin on Bazaar Daily, the young girl was described as "unapologetically real" and someone who "feared nothing [...] especially not being herself."
Barrin had ambitious dreams for her life. According to Guillaume, Barrin aspired to become a model and wanted to move to Los Angeles to make her dream come true.
A vast majority of the victims of transphobic violence in 2017 have been black transgender women. So far, 14 transgender women of color have been killed this year, according to the LGBTQ organization GLAAD.