Vegas Victim Candice Bowers Was A Mother Of Three Who Loved Country Music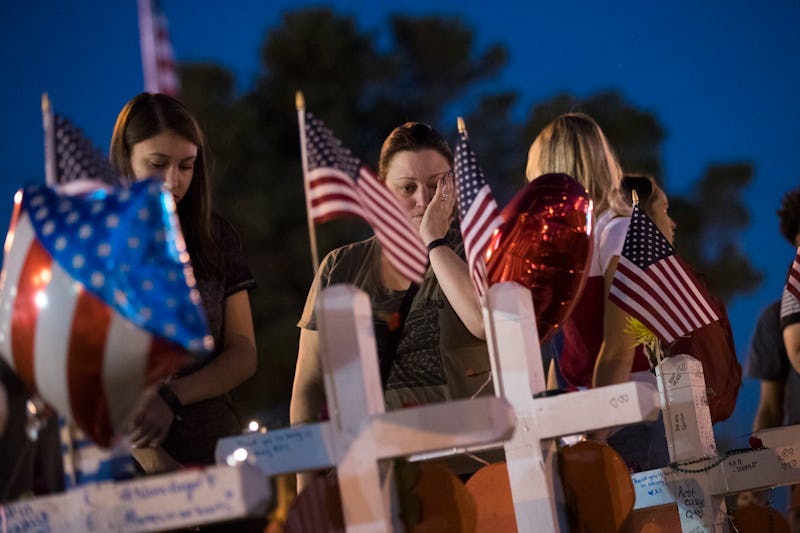 Drew Angerer/Getty Images News/Getty Images
Among the 58 people killed in Sunday night's mass shooting in Las Vegas was Candice Bowers, a 40-year-old single mother from Garden Grove, California, according to The Orange County Register. The shooter, Stephen Paddock, 64, acted alone and shot at the crowd at the Route 91 Harvest Festival from his hotel room at the Mandalay Bay Resort and Casino.
Bowers' friend, Lisa Gentry, 46, was with her on the night that she died, and told The Washington Post that they had stayed after all of their friends left the concert to see Jason Aldean. Soon after he started performing, Gentry said, they went to the bathroom and heard the noise. People were running and yelling at other attendees to "get down."
Gentry told the Post that they ran and then found shelter from the gunfire under a table. Gentry said she asked, "Candice, is this happening right now?" and Bowers replied, "Yes, Lisa, this is happening right now."
Gentry reportedly told her, "We're going to die. I love you." As gunshots came closer toward them, they decided to run. Sadly, Gentry didn't know that Bowers wasn't running along with her, the Post reported. On Monday night, she discovered that Bowers had died in the shooting.
"I remember she was looking at me with this blank, scared look on her face, and that's when I realized, looking back later, I know that's when she was hit. ... She didn't run because she couldn't," Gentry said.
She had a contagious laugh, Gentry added, and always put others before herself. "She was always helping everyone else, from her family, her friends, she always put everyone else first," said Gentry.
Bowers, who was a single mom, was the mother to Kurtis, 20, and Katie, 16, as well as her 2-year-old niece, Ariel, who she adopted, according to The Orange County Register.
Family, friends, and strangers have contributed to a GoFundMe page set up to honor the life of Candice Bowers. A total of $46,700 has been raised so far, with a goal of $55,000.
The page says: "It is with heavy hearts that our family must announce the passing of our mother, daughter, sister, niece, cousin, granddaughter and friend, Candice Bowers, as a result of the Route 91 Country Music Festival shooting in Las Vegas on the night of October 1st 2017. Candice left this world doing what she loved, dancing to country music among loved ones. She will be greatly missed by all who knew and loved her."
The GoFundMe will be used to help her children and for costs of the memorial services. "Any contribution will be accepted with the utmost gratitude and will be put toward commemorating a beautiful life," the page reads.
Editor's Note: This story was updated on Oct. 23 to meet Bustle's editorial standards.