Carrie Barnette Is Being Remembered As "Always Smiling, Happy, & Upbeat"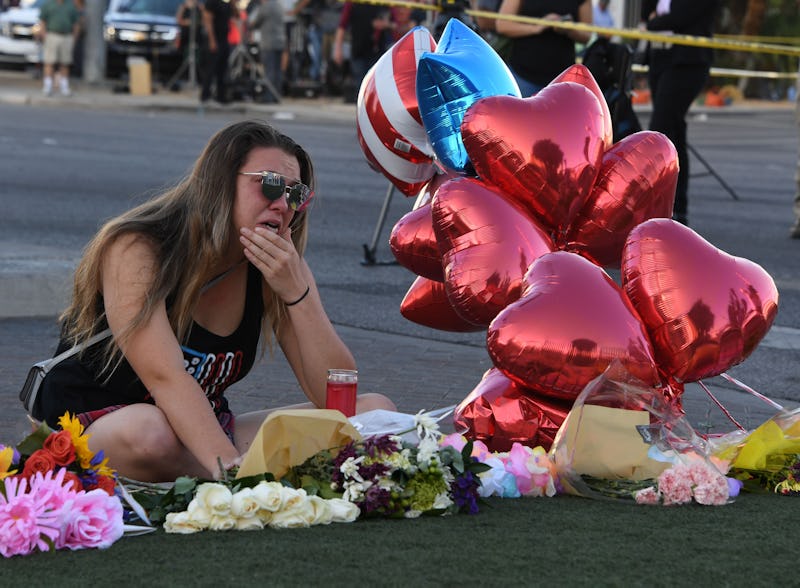 MARK RALSTON/AFP/Getty Images
At least 58 people were killed and more than 500 were injured when a gunman opened fire on a crowd of nearly 22,000 people at a country concert in Las Vegas on Sunday night. Now, the names of those who were killed are emerging in media reports. Among those who lost their lives in the Las Vegas shooting was Carrie Barnette, a Disney employee who was in Vegas to presumably enjoy the festival, something that should have been a celebration of life.
Confirmation of Barnette's past at Walt Disney came from the company's chairman and CEO Bob Iger who sent a company-wide email concerning the 34-year-old victim.
"Our hearts go out to everyone impacted by the tragic events in Las Vegas – the victims of violence, the witnesses, and the friends and families mourning loved ones. We are especially heartbroken over the loss of one of our own to this unconscionable and senseless act," Iger wrote.
The Disney CEO went on to say that Barnette had been working for Disney for a decade and that she "was beloved by her friends and colleagues. Our thoughts are with her family, along with our support, during this incredibly difficult time."
Barnette was described as a loving friend, sibling, and daughter by those who knew her. Her cousin, Janice Chambers, told The Arizona Republic that Barnette's joyous personality was highly contagious and inspiring.
According to various reports in media, the 34-year-old was once a student at Pacifica High School where she was a cheerleader. Her alma mater also shared its condolences in a Facebook post, "Fellow Mariners, so saddened to hear the news about Carrie Barnette passing away in the [Las Vegas] shooting. What a tragic event that has struck so many; so many people and families in my prayers."
Barnette's best friend, Rachel Steiman, said that she was like a "sister to me." Steiman said that her "whole world was devastated" and added, "I don't know how I'm going to get through life without her." In every single quote from those who knew Barnette, it becomes clear that she was dearly loved and cherished by her friends, family, and employers.
"Always smiling, happy and upbeat," her cousin Chamber said and added, "she spent many recent years caring for my aunt and uncle until they passed. She was definitely grandpa's girl. She told me he loved hummingbirds and every time she saw one she'd say 'Grandpa's here.' She was also a huge animal lover."
According to Barnette's mother, her body had not been recovered until much later. Barnette was attending the concert with a friend that night and had been reportedly shot in the left part of her chest when the chaos ensued. Chambers said that she and Barnette's mother waited to find out if she had made it out alive from Sunday's carnage.
In the morning after Sunday, Barnette's friend confirmed that she had died. According to Barnette's friend, she was positioned close to the stage when the attacker began firing indiscriminately at the concert's crowd.
Many Americans are treating the Oct. 1 incident as the deadliest incident of mass violence in the country's modern history. Sharing profiles like this one, helps to shed light on the lives of innocent victims who often, sadly enough, are forgotten as mere numbers in death tolls.