Manchester Victim Chloe Rutherford & Her Boyfriend Were "Inseparable"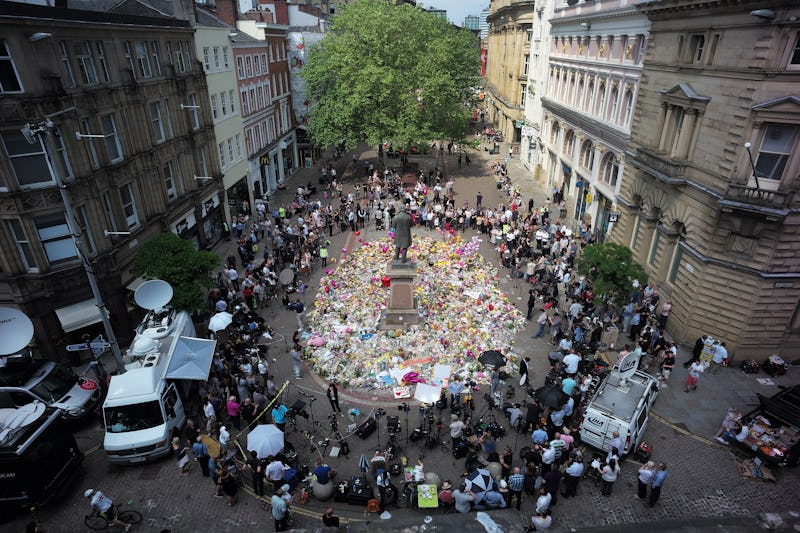 Christopher Furlong/Getty Images News/Getty Images
A young couple who went missing after Monday's bombing outside of an Ariana Grande concert has been confirmed to be among the 22 fatalities. Teenager Chloe Rutherford is another victim of the Manchester attack, along with her boyfriend Liam Curry.
The families of Rutherford and Curry released a joint statement through the Greater Manchester Police early Thursday, in which they described the couple as "inseparable" and "beautiful inside and out":
On the night our daughter Chloe died and our son Liam died, their wings were ready but our hearts were not. They were perfect in every way for each other and were meant to be. They were beautiful inside and out to ourselves and our families, and they were inseparable. Chloe always described herself as ditzy who Liam adored and would do anything for, including dealing with Chloe's demands for chocolate. They lived to go to new places together and explore different cities. They wanted to be together forever — and now they are.
After the Ariana Grande concert, Rutherford's father reportedly drove through the night to try to find his daughter and her boyfriend, who had both been reported missing. The couple's family members had last heard from the teenagers when they sent a selfie to Curry's mother right before Grande came out on stage.
Many people wrote messages on Facebook in support of the couple's families, according to the Manchester Evening News. They expressed heartbreak and devastation that Rutherford and Curry had been killed, especially since they had their whole lives ahead of them.
The Telegraph shared a statement written by Amy Ridley, a singer who described herself as Rutherford's best friend. "Words can't describe the feeling and the emptiness in my heart," Ridley wrote, adding:
Chloe was the loving, amazing, thoughtful, innocent young woman you would ever ever, ever meet. Liam was absolutely amazing, the most caring boyfriend Chloe could ever have wished for. They went everywhere together and he looked after her so so much.
At the time of her death, Rutherford was reportedly studying a music at Newcastle College. The college's principal, Tony Lewin, released a short statement to honor Rutherford and other victims of the Manchester attack.
"We are deeply saddened by the tragic news of Chloe Rutherford," Lewin said. "She was a popular student who was studying a music course at the college. Our thoughts are with her family and friends, as well as all those affected in Manchester, at this sad time."
According to multiple friends and relatives, Rutherford was an important source of support for Curry, whose father had died of cancer just weeks before the concert. Following the attacks, a surge of donations have been made across various crowdfunding platforms to support victims and their families.