Las Vegas Attack Victim Dana Gardner Was A "Dedicated Public Servant"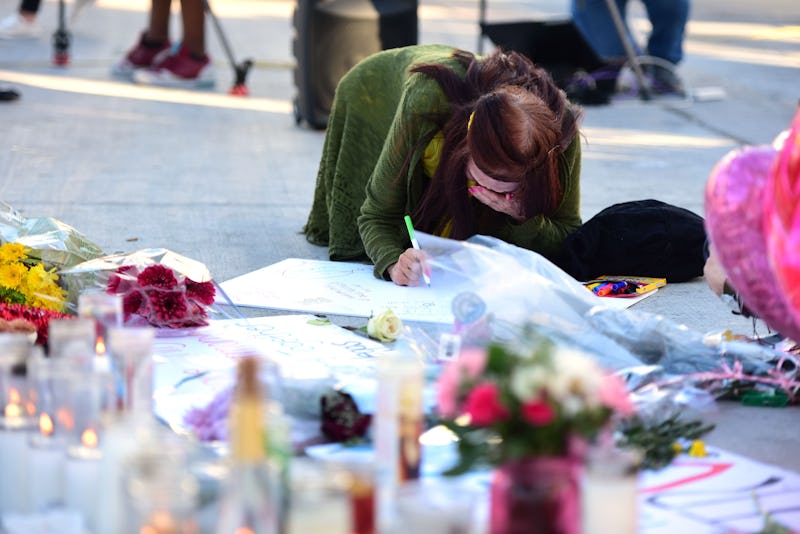 ROBYN BECK/AFP/Getty Images
The United States is still reeling from the devastating mass shooting that took place at a Las Vegas country music festival on Sunday night. At least 59 were killed and more than 500 injured after a shooter reportedly opened fire from the 32nd floor of the nearby Mandalay Bay hotel. It's been declared the largest mass shooting in recent American history. In times of crisis, it's important to humanize the victims of such senseless, needless violence. Among those killed in the Las Vegas shooting was Dana Gardner, a longtime employee for San Bernardino County in California.
Gardner was 52 years old, and had worked for San Bernardino County for 26 years, according to The San Bernardino Sun. In an email sent to the county's Board of Supervisors on Monday, and obtained by reporter Joe Nelson, San Bernardino County Interim CEO Dena Smith said Gardner was killed after being shot twice during the massacre.
Assessor/Recorder/County Clerk Bob Dutton described Gardner as a "dedicated public servant" in an interview with the Sun. She had worked for the County since 1991 and climbed her way up to deputy recorder. She reportedly had a daughter and two sons: Anthony, Ryan, and Kayla.
ABC7 reported that Gardner had attended the Route 91 Harvest festival with her daughter, who was not injured. Gardner also had two sisters in Las Vegas at the time, Amber Harton and Hollie Brown. Before they returned to California, ABC7 reported that they stopped by United Blood Services in Las Vegas to thank blood donors who rushed in after the attack. They were hopeful that, while their sister couldn't be saved, perhaps other victims could be.
"She's a wonderful woman. Most generous person I've ever met. Most wonderful mother, grandmother, sister," the sisters jointly told ABC7 reporter Josh Haskell. On Gardner's Facebook, she posted photos of nature, herself outside, and with people who appear to be her family.
When the violence broke out Sunday evening, many survivors told reporters that they thought the popping of gunfire was the sound of fireworks. Country music singer Jason Aldean was in the middle of his set at the time. Only as the shots continued did the realization spread through the crowd. Festival-goers scrambled for the exits or attempted to shield themselves under bleachers and food trucks, the Los Angeles Times reported on Monday. People scrambled into each other's cars and into nearby hotels, attempting to call friends and family.
As the violence unfolded, heroes emerged from the chaos. There have been countless reports of individuals who stepped forward to help save lives in the midst of the pandemonium. There was, for instance, Taylor Winston, a 29 year-old Marine veteran who literally stole a pickup truck to take victims to the hospital. There was also Carly Krygier, a Nevada mom who used herself as a human shield to protect her 4 year-old daughter. There was a stranger who tended to 18-year-old Addison Short's knee wound and carried her to a taxi, which then took her to the hospital. The list goes on and on.
But while stories of individuals appearing out of nowhere to perform heroic tasks increase faith in the essential goodness of people, the question remains of whether such widespread violence is preventable. In the wake of yet another mass shooting, many are calling on politicians to increase gun-control measures. Opponents say that introducing gun-control legislation would only serve to politicize the tragedy. But as gun violence continues to unfold at a rapid rate, gun control advocates have almost uniformly asked, "If not now, when?"