Denise Burditus, A Vegas Shooting Victim, Died In Her Husband's Arms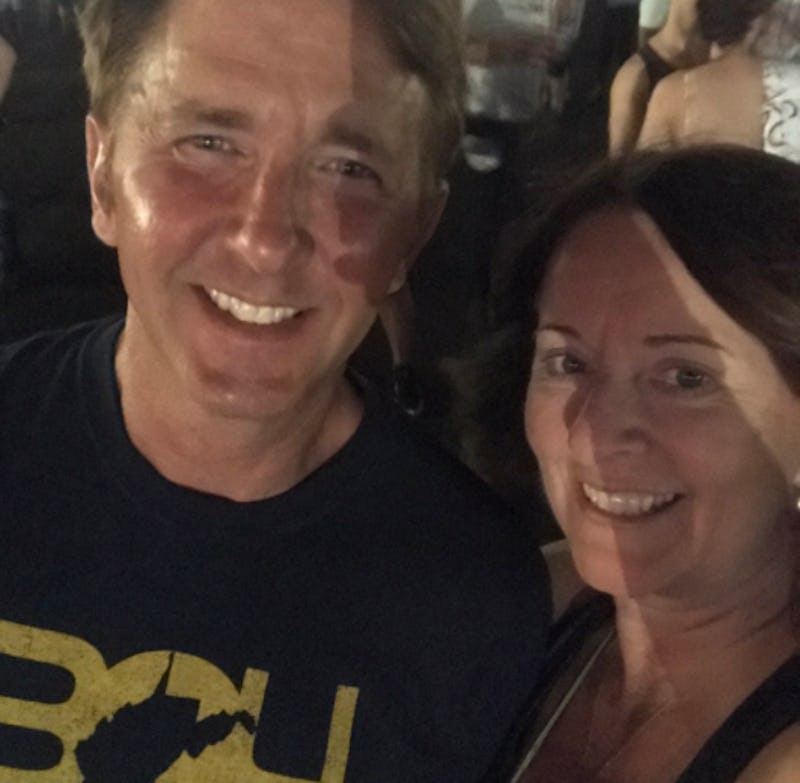 Denise Burditus/Twitter
Over the weekend weekend, at least 59 people were killed and over 500 were injured in a mass shooting at the Route 91 Harvest Festival in Las Vegas, on the strip. The three-day music festival was an event that many people were looking forward to, yet, horrifically, it ended up an utter tragedy in which many of lost their lives. One of the victims of the Las Vegas shooting was Denise Burditus, a mother and grandmother whose friends praised her sense of adventure, ambition, and love for travel.
Burditus, was a native of Hedgesville, West Virgina, and had most recently resided in Martinsburg, another city in the state. She had attended the Route 91 Harvest Festival with her husband, Tony Burditus. According to WSAZ 3, a West Virginia television news station, Tony announced his wife's death on Facebook, and wrote that she died in his arms:
It saddens me to say that I lost my wife of 32 years, a mother of two, soon to be grandmother of five this evening in the Las Vegas shooting ... Denise passed in my arms. I LOVE YOU BABE.
According to BuzzFeed News, Burditus described herself as a college student and semi-retired. She also had previously been president of the Association of the United States Army subchapter in Lacey, Washington Her husband is a recently-retired soldier and the couple had moved around the country throughout his military career.
On the night of the shooting, Burditus posted a photo of her and her husband at the Route 91 Harvest on social media.
As reported by NorthwestMilitary.com, Carlene Joseph, former president of the local AUSA chapter in West Virginia, who got to know Burditus after the couple moved to West Virginia, described Burditus' impressive college ambitions, saying, "Denise was working on her college degree and was so proud of her grades. I was one of her many cheerleaders on Facebook. She had a West Virginia heart as big as she was. Total shame this woman was taken so quickly during the second stage of her life. She just turned 50."
In addition to her academic ambitions, Burditus reportedly loved to travel and spend time with her grand children, the Miami Herald reported. WSAZ 3 also noted that the couple had traveled to much of the southern United States over the past few years, including to Florida, Georgia, Texas, and Louisiana. They had also recently started a blog about their travel experiences.
Those who knew Burditus and Tony spoke fondly about the couple's sense of adventure. Denise Chambers told the Huffington Post that she had been friends with the couple since high school and described them as "high school sweethearts [who were] very much in love." Chambers also praised Burditus and her husband's adventurous spirit and penchant for travel, saying:
They were very active and full of life. Traveled around the country, took cruises, lived in different states and just recently moved back home to the Martinsburg, West Virginia area.
Others who knew Burditus posted tributes to her on social media. One woman, Zulma Aleman-Fernandez, shared a picture of Burditus as well expressed her dismay and sorry at the news of her death. "It is so sad to learn first thing this morning, the loss of our SF sister, Denise Burditus... a friend, wife, mother and grand mother, taken away too soon, a victim from a deranged shooter in Vegas!" she wrote. "You will never be forgotten, you will remain in our hearts forever. Deepest thoughts and prayers for Tony, family and friends...... RIP."
It is undoubtable that Burditus was loved and admired by friends, family, and those who knew and loved her. Her adventurous spirit, ambition, and love for her family have very clearly come through in the words of those mourning her tragic loss.