Eilidh MacLeod, 14, Was Killed In The Manchester Concert Bombing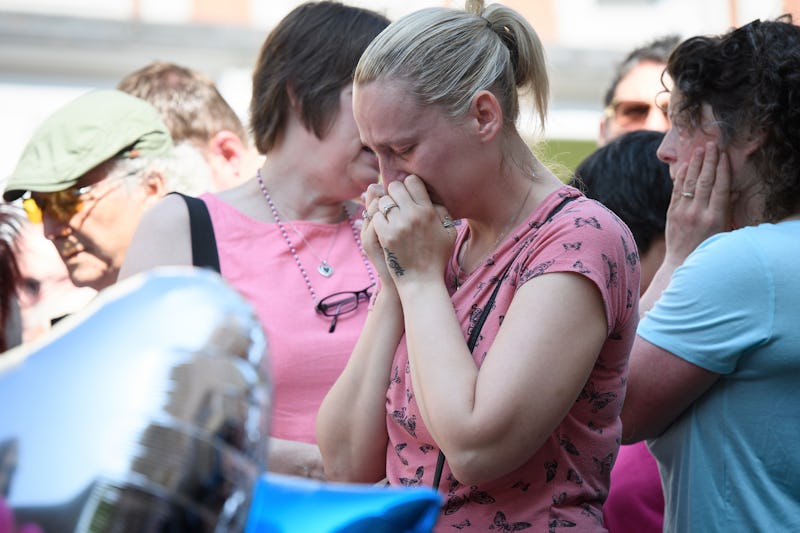 Leon Neal/Getty Images News/Getty Images
Following the terrorist attack on Monday that claimed the lives of 22 people, the identities of the dead continue to be released. Among the Manchester attack fatalities is Eilidh MacLeod, a 14-year-old, who, according to the BBC, comes from a tight-knit community on a Scottish island.
MacLeod was at the Ariana Grande concert with her friend, 15-year-old Laura MacIntyre. MacLeod's mom, Marion, waited for the girls outside the venue, but when they didn't show up she frantically searched all the hotels and hospitals, the Telegraph reported. Her husband, Roddy, soon rushed to Manchester to join in the search. In the end, their worst fears were realized. Her parents announced her death in a moving statement:
Our family is devastated and words cannot express how we feel at losing our darling Eilidh. Eilidh was vivacious and full of fun. She loved all music whether it was listening to Ariana or playing the bagpipes with her pipe band. As a family we would like to express our thanks and gratitude for the support and kind messages we have received at this difficult time.
Her friend, MacIntyre, is still in the hospital suffering from severe injuries, but they are not thought to be life-threatening. Already, a JustGiving crowdfunding page has been established for the two girls. It was set up before MacLeod's passing was announced. The goal was 30,000 pounds, of which 84 percent had already been raised by Thursday morning.
MacLeod is from a small community on the island of Barra in Scotland. Donald Patrick Nicholson, 76, MacLeod's piping teacher, gave an idea as to how close the community is and what the loss of the young girl would mean to them.
"She was popular, she was a fantastic girl, the girl was brilliant," he told the Daily Telegraph. "I am just gutted, it is just terrible. It is a big, big loss. It has shattered my life. Everybody on the island knows the family, a beautiful family."
Politicians also weighed in on the loss. Scottish First Minister Nicola Sturgeon tweeted, "This is heartbreaking news. My thoughts are with Eilidh's mum and dad, and all of her family and friends."
Sturgeon also told BBC that there would be support available to the community of Barra, not just today but in the coming weeks, months, but "for as long as it is needed."
In the days after the attack, families have released information about their loved ones whose lives were lost on Monday night. The statements are a testimony to the lives the victims led, and a reminder of the grief that their families are sure to feel for a while to come. For MacLeod's family, the support from her close-knit community will surely be needed.