Elaine McIver, An Off-Duty Police Officer, Was One Of The Manchester Victims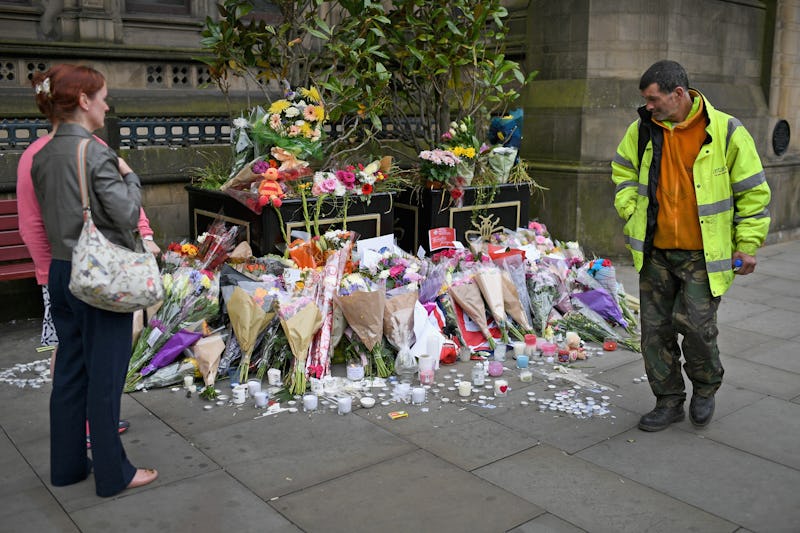 Jeff J Mitchell/Getty Images News/Getty Images
As the investigation into Monday's attack continues, another victim of the Manchester bombing has been identified. Elaine McIver, a Cheshire police officer, was at the Ariana Grande concert with her husband and two children, who were also hurt. Her husband, Paul, remains in the hospital from wounds he suffered in the explosion.
McIver's family has released a statement celebrating her gregarious personality, fearlessness, and warmth:
Elaine was a much loved daughter, sister, auntie, friend and colleague, the best we could ever have wished for.
She was everyone's friend, thoughtful beyond belief with an effervescent and outgoing personality.
She would have been devastated by the injuries sustained by her partner Paul, and we all wish him a speedy recovery.
Elaine just loved life, and had a major love of music. Despite what has happened to her, she would want us all to carry on regardless and not be frightened by fear tactics, instead she regularly urged us all to rise up against it.
Although we will all miss her beyond belief, we absolutely know she will live in our hearts forever.
McIver joined the police force, or "Constabulary," in 1998, and had been working as an officer for 20 years. She was not on active duty when the attack happened.
Police have identified the man they believe responsible for the suicide bombing, 22-year-old Salman Abedi. Law enforcement has since expanded their investigation, believing that Abedi likely worked with a "network" to carry out the devastating attack in Manchester. Abedi's father, Ramadan, as well as his brother Hashem have been detained in Libya. An older brother, Ismail, was picked up by police on Tuesday in South Manchester. Prime Minister Theresa May has moved the threat level for the United Kingdom to "critical," the highest designation.
In an unforeseen move, law enforcement in Manchester have recently announced they will no longer share information with the United States, after pictures of their investigation were leaked to the press and printed in The New York Times. According to The Guardian, the leaks have left the government and police officials "furious."
Speaking about the loss of McIver, one of his police team's members, Chief Constable Simon Byrne said, "Friends who knew her well have described her as big hearted, bubbly and a positive person. We are supporting her family at this very difficult time, and will be providing support for friends and colleagues from the Constabulary as we come to terms with the loss of an officer in such tragic and heart-rending circumstances. We will not let evil win."