John Atkinson, Another Manchester Attack Victim, Is Identified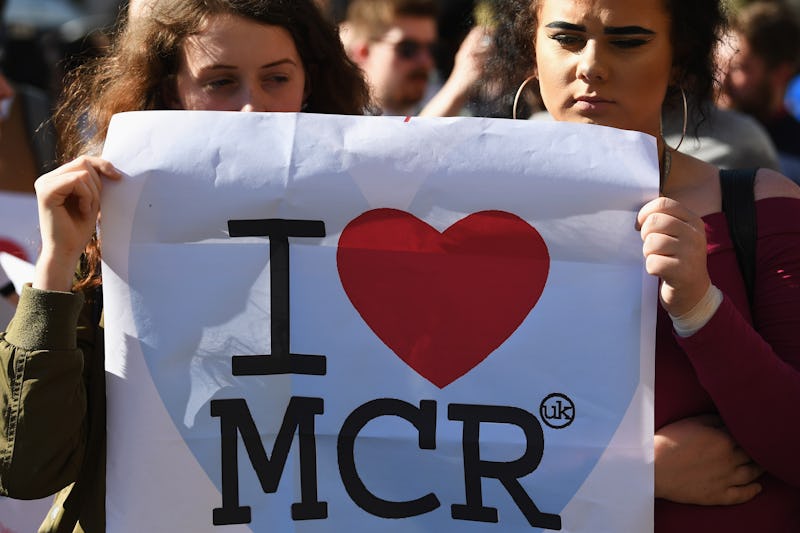 Jeff J Mitchell/Getty Images News/Getty Images
In the aftermath of the Manchester bombing, another victim, 26-year-old John Atkinson, has been identified. According to The Telegraph, Atkinson was confirmed dead by family and friends. Atkinson was reportedly from Radcliffe, a town in Greater Manchester, England, and a fan of pop music.
Tributes from friends and family have poured in since the news of his death, calling him a "beautiful soul" and an "amazing young man," The Telegraph reported. According to CNN, Atkinson had attended Bury College in Greater Manchester.
As the Manchester Arena emptied out following an Ariana Grande concert Monday night, a suicide bomber set off an explosive, killing 22 and injuring 59 others. Police have identified 23-year-old Salman Abedi as the suspected bomber. The Greater Manchester Police Chief Constable confirmed that Abedi died in the explosion, according to NPR.
A GoFundMe page has been set up to help the Atkinson family in this difficult time.
Also identified as dead following the bombing were 8-year-old Saffie Rose Roussos and 18-year-old Gerogina Callander. Roussos attended the concert with her family, and her mother and sister were among those injured in the blast. Roussos's primary school head teacher described her as "a beautiful little girl in every aspect of the word" and "quiet and unassuming with a creative flair," according to The Telegraph.
Callander was an Ariana Grande super fan and had met the singer in 2015. She posted on social media on Sunday about her excitement for the concert. Callander attended Runshaw College in Lancaster, reported CNN.
Since the bombing, Grande has suspended her world tour.
Many people are still looking for missing loved ones following the bombing. Nineteen of the 22 killed in the explosion have yet to be identified.
The Islamic State has claimed responsibility for the attack, stating that one of their "soldiers" carried it out. The statement was posted on an online messaging service called Telegram, and the SITE Intelligence Group picked it up, according to The Washington Post.
President Donald Trump called the perpetrators "evil losers." While in Bethlehem, he said, "So many young, beautiful, innocent people living and enjoying their lives, murdered by evil losers. I won't call them monsters because they would like that term, they would think that is a great name. I will call them, from now on, losers because that's what they are: losers." Trump is continuing his foreign trip across the Middle East and Europe.
Hopefully the Manchester Police can hold someone responsible for this terrible crime and the people of England can pull together to take care of one another in their time of need.