Las Vegas Shooting Victim John Phippen Was A "Once-In-A-Lifetime Friend"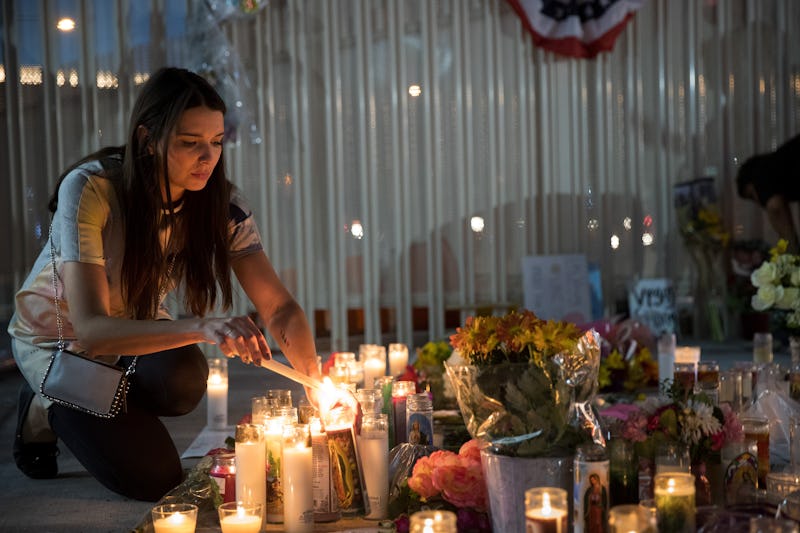 Drew Angerer/Getty Images News/Getty Images
Every victim of the deadly shooting in Las Vegas left behind mourning friends and family members — parents, lovers, close friends, coworkers, children. Las Vegas shooting victim John Phippen was no exception. According to one of this 56 year-old widower and father of six's closest friends, Paul Nagyivanyi, Phippen was a "once-in-a-lifetime friend (who) touched everybody's heart, whether you were a stranger or a 20-year friend."
"The number-one thing he loved was his family," Leah Nagyivanyi, Paul Nagyivanyi's wife and Phippen's long-time neighbor and close friend, told ABC news. "That was his life - his family, his kids, his grandkids and his friends." The Nagyivanyis had known Phippen for over 17 years, and they described him as a dedicated family man who was extremely close to his children — three of whom, between the ages of 15 and 24, he was still supporting when he died. His youngest daughter had also lost her mother, Phippen's second wife, only three years prior to this shooting. Phippen was a general contractor, and he and the Nagyivanyis were all residents of Santa Clarita, California.
"He loved his country music," Mr. Nagyivanyi told ABC News, saying that he was excited about attending the festival that would eventually be broken up by tragedy. "He was such a great guy that if you introduced him to your friends, they became his friends." Mrs. Nagyivanyi added that they often took part in activities together over the years of their friendship. "We did a lot of things together - boating, jet skiing. We would do barbecues, camping at the beach," she said.
Phippen was at the concert with his son Travis, an off-duty emergency medical technician. Both of them were shot; a bullet hit John while he was trying to protect a fellow concertgoer, and then one hit Travis in the arm when he rushed to try to get his father out of the way of the gunfire. Travis and an off-duty member of the Los Angeles County Sheriff's Department rushed John away from the rain of bullets and got him to a nearby hospital, where he passed away early Monday morning.
"He wanted me to tell everyone how much he loved them. That was the last thing he said to me," Travis Phippen told NBC Los Angeles. "He gave his life for somebody he didn't even know."
This tragic end jives with the way that Mrs. Nagyivanyi described Phippen on the GoFundMe page she created to help provide for his children in the immediate aftermath of their father's death.
The page reads as an ode to her longtime friend, saying that "If you didn't know John you surely missed out. He had a heart that was larger than life and a personality to match. You felt like you knew him for years the first time you met him." Knowing the way that he died, perhaps the most touching passage is her description of his generous spirit:
He had your back from the moment he met you and by having your back that could mean, having a cold beer in your hand when yours was empty or if you needed help with your car or in our case, your sandrail, your house or you just needed to chill. Even if you were someone he had never met before but were in need, he was there for you.
The GoFundMe page, which Mrs. Nagyivanyi created on Oct 2 immediately after the mass shooting, originally had a goal of $25,000, but it has already raised nearly $51,000. The money will go to his six children and one grandchild as they begin to pick up the pieces of their life after losing their father to this despicably violent act.