This Las Vegas Shooting Victim Died In A Bystander's Arms & His Family Is Shattered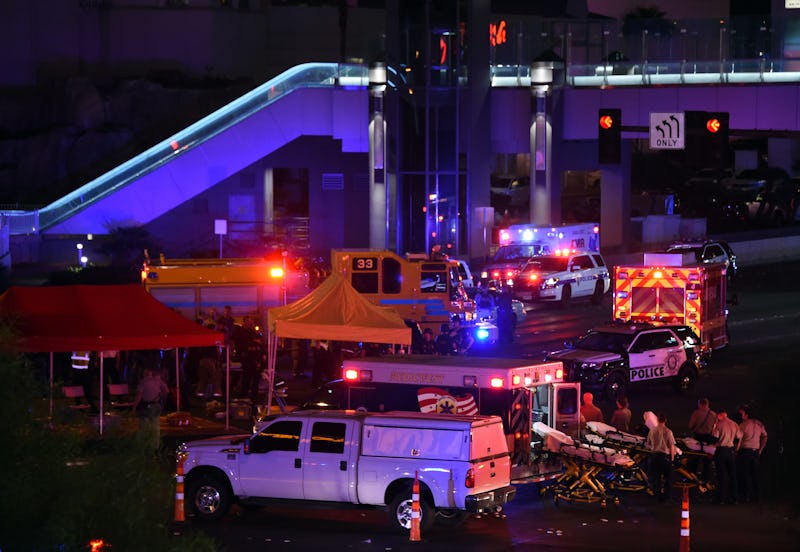 Ethan Miller/Getty Images News/Getty Images
Just hours after the deadly attack on the Harvest Festival, the victims of the Las Vegas mass shooting have slowly begun being identified. Social media has been invaluable in two ways, providing a glimpse into the devastation and horror Sunday night brought, as well as a window into the lives of those who were lost. Among the most heartrending dispatches from the night's events came from a woman named Heather Gooze, who said one of the massacre's more than 58 victims, Jordan McIldoon, died in her arms.
In a Facebook post that night, Gooze told friends and family that she'd escaped unscathed, and that authorities had told her and other concert-goers to remain "right outside" festival grounds.
"I am with a young man who died in my arms!" she continued. "RIP Jordan McIldoon from British Columbia. I can't believe this just happened!!!"
McIldoon's parents, Al and Angela McIldoon, confirmed to CBC News that their 23-year-old son Jordan had died that night. McIldoon's girlfriend and Las Vegas paramedics had reportedly broken the news of their son's death to the couple.
"We only had one child," they told the outlet on Monday. "We just don't know what to do."
According to CBC News, McIldoon had been a "heavy-duty mechanic apprentice" slated to begin trade school in Okanagan, British Columbia.
McIldoon and his girlfriend were attending Harvest Festival in celebration of his upcoming 24th birthday, which would have been on Friday. Global News reported that the couple had made it an annual tradition to visit Las Vegas for McIldoon's birthday. Though the outlet couldn't say for sure, Global News stated it "appears" McIldoon died attempting to save his girlfriend's life.
A friend named Mitchell Brown told the outlet it sounded more than plausible that McIldoon would have laid down his own life for someone else.
"I knew Jordan well and when you tell me he saved [her] life I believe it 100%," Brown said. "He would have saved everyone if he could have. He was one of the best guys I know and is going to be greatly missed by a lot of people.​"
McIldoon is one of two Canadians who thus far have been named as victims of Sunday's mass shooting, the other being Jessica Klymchuk, a mother of four from Alberta.
Canadian Prime Minister Justin Trudeau issued a statement Monday morning offering his condolences to all victims of the massacre, noting that the Canadian government was still receiving more information about its own citizens who were victims:
Our hearts break for our American friends and neighbors today. On behalf of all Canadians, I offer my deepest condolences to those who lost loved ones and friends, and my prayers for a fast and full recovery for the many injured. We stand with the United States, and share their pain and horror at such a senseless and cowardly act of violence.
B.C. Premier John Horgan also released a statement on Sunday's shooting, noting that government buildings in Victoria and Maple Ridge, where McIldoon was from, would fly at half mast in McIldoon's honor.
"To Jordan's family, and the family and friends of all those who have lost their lives, we offer our condolences and support," Horgan said.
He went on to express gratitude for the first responders who put their lives on the line "by running toward gunfire in an effort to save lives."
"When dark acts seek to shake our faith in humanity, we look to those who have come forward to help," Horgan said. "Their selfless acts of heroism are what build the strong and caring communities we all want to be a part of."