Famed Gossip Columnist Liz Smith Has Died At 94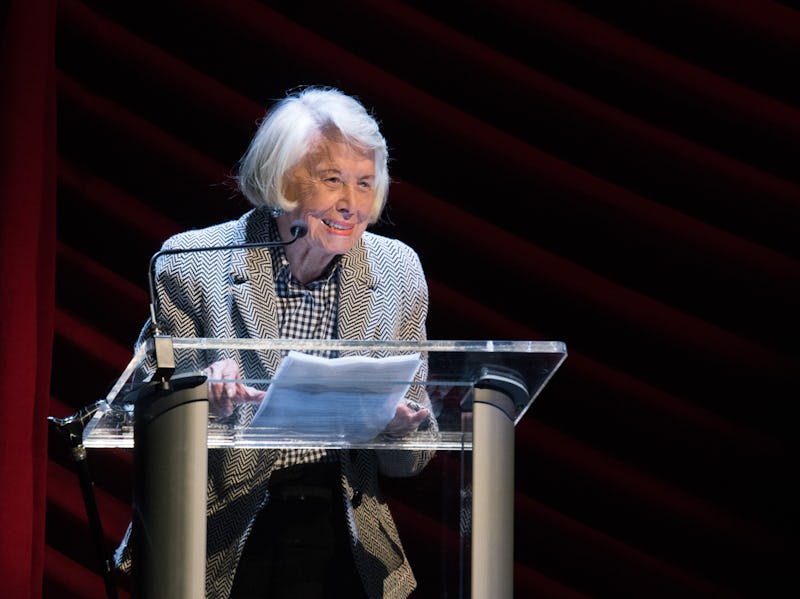 Dave Kotinsky/Getty Images Entertainment/Getty Images
On Sunday evening, The Associated Press reported that the famous gossip columnist Liz Smith had passed away at the age of 94. The confirmation of Smith's death was given by her literary agent, Joni Evans, who said that the syndicated columnist passed away due to natural causes. Over the time, media reports about Smith discussed her declining health, including a New York Times interviews that briefly detailed a minor stroke she endured earlier this year. "I'm just fine. I can't walk. I can't talk as well as I used to, but I'm relatively healthy otherwise," Smith told John Leland in July. A memorial service for the writer will be held in spring.
Smith attended the University of Texas where she completed a journalism degree in 1949. During her time in school, she worked for the student paper known as The Daily Texan. The columnist's ascension in journalism seemed to have taken place when she moved up north to New York and began working for CBS Radio as a news producer.
Interestingly enough, the legendary gossip columnist's journey in the field began without her own byline and face next to her words. In the early days of writing about the hip crowd of society and the entertainment industry, Smith ghost-wrote her observations for the Cholly Knickerbocker column for Hearst. She was joined by other columnists who also used the pseudonym, including writers like Igor Cassini and Charles Rensselaer.
According to those who had read her work for years, Smith was not exactly your typical gossip columnist. Even after having worked at different places over the years like the New York Daily News, The New York Post, and Newsday, Smith had apparently exhibited very little interest in baseless rumors about elite figures of American society, according to the autobiography on her which was titled "Natural Blonde" and came out in 2000. The authors of the book, Jane and Michael Stern, once wrote that when Smith "escorts us into the private lives of popular culture's gods and monsters, it's with a spirit of wonder, not meanness."
Perhaps one of the most heartwarming descriptions of Smith came from both authors who wrote about her approachability in spite of having reached the top of Manhattan's oft-inaccessible socialite ladder. "It is hard not to like this candid Lone Star refugee who arrived in Penn Station with two suitcases in September 1949," the authors wrote. Smith who had socialized among the likes of "Trump, Forbes, Onassis, Hepburn and Madonna" had remained "a good ol' girl in custom cowboy boots."
Smith wasn't limited to being a gossip columnist. Beyond her writing about society and its affluent members, Smith was an advocate for educational programs and had reportedly raised money for the literary program under Literacy Volunteers. On the frontier of gender progressivism, Smith was a member of the Women's Action Alliance. In 1986, a "roast" of the writer was held to raise money for the WAA.
With the mass distribution of gossip brought on by social media in the United States, the writer noted there was a change in her genre of writing, and how it was wielded in media. And she seemed to dislike it.
In the interview with Leland for The Times, Smith spoke of quantity versus quality when it came to gossip news and said, "Maybe gossip is still amusing, but I don't think it's as much fun as it used to be, because it's now all-pervasive. Someone you never knew their name is on the front page, making millions of dollars or going broke, and you never heard of them before. In the past we were able to identify important people and stars."