Kissimmee Police Officer Matthew Baxter Was A Father & 3-Year Veteran Of The Force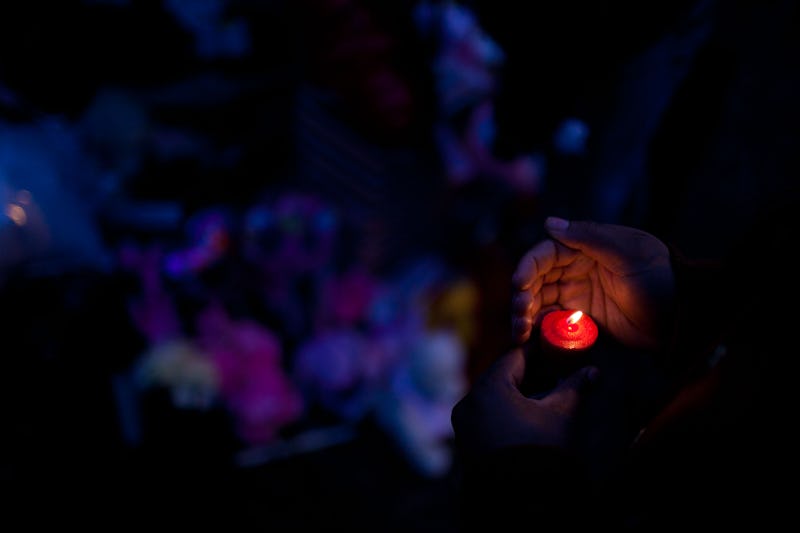 Jonathan Gibby/Getty Images News/Getty Images
Two police officers were shot in central Florida on Friday night, and soon after, one of the officers succumbed to his injures. Kissimmee Police Officer Matthew Baxter died, while the other responding officer, Sgt. Sam Howard was in "very grave condition" as of around 1:30 a.m. ET early Saturday.
According to Kissimmee Police Chief Jeff O'Dell, Baxter was a three-year veteran. Local 10 News reported that he was married to a fellow police officer at the Kissimmee Police Department and had three children. "Tonight we lost a brave officer - Matthew Baxter. Husband/father/hero," Florida Gov. Rick Scott wrote on Twitter. Sgt. Howard is also a husband and father, The Orlando Sentinel reported.
Baxter and Howard responded to a call of suspicious persons in a downtown area. The shooting may have been an "ambush," the chief said, and the officers did not return fire. Three suspects are reportedly in custody, and authorities are looking for one additional suspect.
Osceola County Commissioner Fred Hawkins Jr. said that the last time a Kissimmee police officer was killed on duty was in 1983. "It's just awful. We're praying for the families of these officers and for the whole KPD family," he said.
Two officers were also reportedly shot 150 miles north of Kissimmee in Jacksonville, Florida. One was shot in the stomach and was in critical condition, while the other was shot in the hands and was in stable condition early Saturday morning. The officers were responding to a suicide call, according to Jacksonville Sheriff's Office Director Mike Bruno. They apparently arrived to find a man with a rifle, and three people barricaded in a room, The Florida Times-Union reported. More information, like whether the incidents were connected, was not immediately available
"This is a tough time in law enforcement. I would ask that you pray for the men and women of law enforcement," Chief O'Dell said. President Trump answered that call, tweeting his condolences in the late night hours, writing, "My thoughts and prayers are with the @KissimmeePolice and their loved ones. We are with you!"