Manchester Victim Nell Jones Was 14 Years Old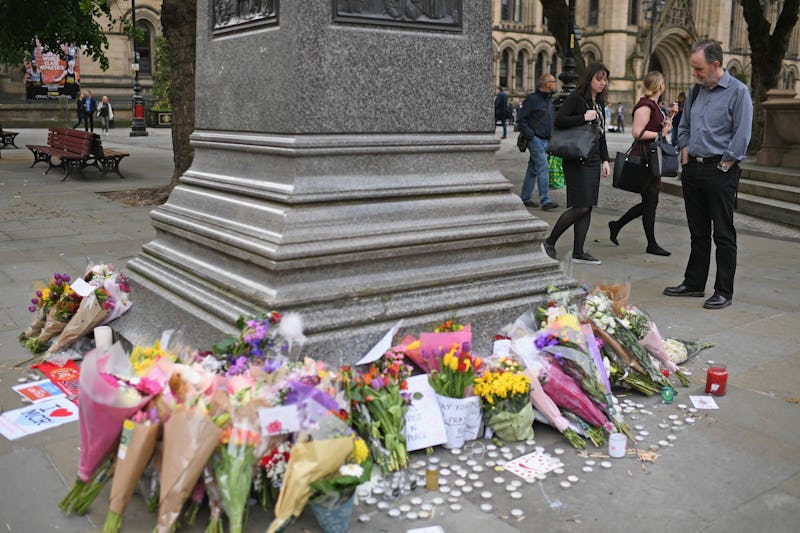 Jeff J Mitchell/Getty Images News/Getty Images
Since the bombing of an Ariana Grande concert in Manchester, England earlier this week, many have been struggling to process the events. The reported death toll from the incident has slowly crept up as the hours and days have gone by: One more name has just been added to the list of the Manchester attack victims — Nell Jones, a 14 year old.
Jones, a resident of Goostrey, a village about 18 miles from Manchester, was confirmed dead in the blast on Wednesday. According to her family, she'd been on crutches during the concert, due to a wounded ligament. She's one of 22 people who were slain in the nail bomb attack, and according to the BBC, the Great Manchester Police believe all the deceased victims have now been identified.
Jones was a student of the Holmes Chapel Comprehensive School in Cheshire, located about 12 miles west of her home town of Goostrey, where she was a well-liked and beloved student. She was also reportedly a member of the Knutsford Young Farmers, a group for rural youth interested in agricultural and farming work.
According to a tutor named David Wheeler, who spoke to The Knutsford Guardian, she was "always smiling, always positive," and had been a member of the same tutoring group since moving out of primary school, making her death feel more like the loss of a family member.
Nell was a very popular girl, always smiling, always positive. Her tutor group have been together since the transition from primary school. It feels like they have lost a sister not a classmate.
As The Telegraph detailed, the head teacher of Jones' school, Dennis Oliver, held several assemblies in order to inform the student body of the news, and that have her former classmates have been left grieving and in tears.
I have just done six assemblies to tell the pupils. Children are all over the place crying. We are all devastated. ... The heart wrenches for me and everyone else.
Oliver also told The Knutsford Guardian that he'd spoken to Jones' parents to offer his and the students' condolences, and that they were "devastated," just like anyone would expect. Furthermore, he said that the family desires privacy at this time.
I have met with Mr and Mrs Jones this morning and offered our sincere condolences on behalf of everyone at our school. I cannot imagine the loss they must feel. Nell's family are devastated by the news and have asked that they be allowed to come to terms with their loss in private.
Jones was not the only student from her school in attendance at the concert, as her friend Freya Lewis was also injured in the blast. Lewis is reportedly in the hospital due to the severity of her injuries, but is expected to recover.