A California Police Department Employee Is One Of The Victims Of The Mandalay Bay Shooting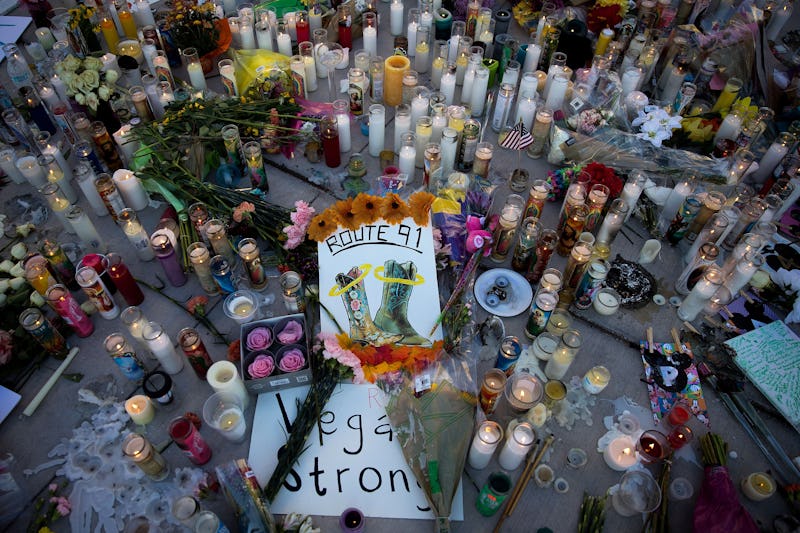 Drew Angerer/Getty Images News/Getty Images
The total number of victims of the weekend shooting in Las Vegas, NV, in which a man named Stephen Paddock opened fire on a crowd of 22,000 at the Route 91 Harvest Festival, is now at 59, making it the worst gun massacre in recent American history. While police attempt to find the motive for Paddock's massacre, which occurred from the 32nd floor of the neighboring Mandalay Hotel and involved over 23 firearms, the victims are now being identified, and they include Rachael Parker, a records technician employed at the Manhattan Beach Police Department.
Manhattan Beach is an affluent beach community not far from Los Angeles airport, and Parker, 33, had been employed at the police department there for a decade, working her way up from monitoring parking meters, according to KXLY news. The Manhattan Beach Police Department wrote in a statement that Parker "was shot and ultimately lost her life in the hospital. She was employed with the Manhattan Beach Police Department for 10 years and will be greatly missed." The department's captain, Tim Hageman, told the press, "I just remember honestly that whenever I walked by she took the time to look my way, wave and smile. And that wasn't just for me, that was for everybody. She was that kind of person."
Another member of the same police department, a sworn police officer who was off-duty, was wounded and has minor injuries, according to the police statement. Parker's mother Robin Monter, who flew to Las Vegas immediately on hearing the news, told KXLY that her daughter was "brilliant and had a heart of gold", and often volunteered with the elderly and homeless.
The Long Beach Post reports that Parker moved to Long Beach from Redondo Beach, and was originally from Washington, where she graduated from Cheney High School. They spoke to a friend of Parker's, real estate broker Arlene Richardson, who said that Parker was attending the festival as part of a group celebrating a friend's birthday.
"I was trying to get in touch with her to find out if she was okay because Rachael wasn't returning my texts, I just had a terrible feeling," Richardson told the Post. She was informed the next morning that Rachael had died. She remembered her friend as "just so funny. She has such a funny sense of humor and is just amazing," and recounted Parker's love of dogs and strong support of animal rights. Richardson recounted how Parker had chosen to adopt one of her two dogs, Maddie:
"There were six Rottweilers that somebody left in a backyard and she found out that they were at the shelter. She was like, 'I have to get one, I have to get one,' and she asked me to go with her. She adopted Maddie and so we went and we looked at all of them that were there and her heart was just breaking, she was like 'Oh my gosh, I wish I could take all of them,' but Maddie just seemed like the best fit."
"She loved dogs so much," Richardson said. "She's such a dog and animal person in general, she loved dogs so much that if anybody would ask her what she would want the world to know, is to adopt dogs that really need help. She deserves all the praise, she was just such a great person."
Parker is one of several identified government workers to have been killed by Paddock in the massacre. Sandra Casey, a special education teacher at a Manhattan Beach school, was fatally wounded, as was off-duty Las Vegas police officer Charleston Hartfield. Parker's co-workers have filled her desk at the Manhattan Beach station with flowers.