Rhonda LeRocque, A Vegas Shooting Victim, Was At The Country Music Festival With Her Family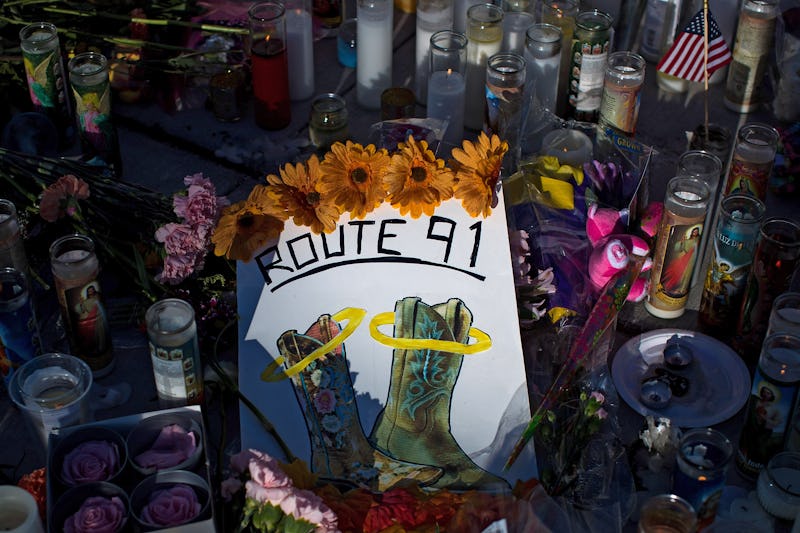 Drew Angerer/Getty Images News/Getty Images
Victims of Sunday's mass shooting, which has reached a death toll of 59, continue to be identified. One of them was lifelong Massachusetts resident Rhonda LeRocque who was killed in Las Vegas when a gunman sprayed bullets into a crowd of people gathered for a country music festival. LeRocque, 42, lived in Tewksbury, a town less than 30 miles northwest of Boston, with her husband Jason and six-year-old daughter Ali.
On Sunday, she attended the Route 91 Harvest Festival on the Las Vegas Strip with her husband, daughter, and father-in-law. During the performance from country singer Jason Aldean, a gunman opened fire at concert-goers from the 32nd floor of his room in the Mandalay Bay Resort and Casino. LeRocque died at a Las Vegas hospital after being shot in the head, family members told the Las Vegas Review-Journal and Boston Globe.
LeRocque's child reportedly left the concert with a relative before the the gunman opened fire and no one else in her family was injured. Nearly 60 have died dead, and an estimated 527 people have been wounded from the mass shooting. LeRocque's mother, Priscilla Champagne, told CBS Boston that her daughter and Jason were married for more than 20 years. The family went to Las Vegas for an anniversary trip, and specifically for the festival.
Friends and family described LeRocque as a loving mother and wife, and a devout Jehovah's Witness who loved to cook. She was reportedly an active member of the Wilmington Jehovah's Witnesses chapter and worked at IDEO, a design agency in Cambridge. "She was the one who threw all the events and family gatherings and she was the hostess with the mostess and she was just beautiful inside and out," Champagne told CBS Boston.
Several fundraisers have been started to raise money for medical and funeral expenses, transfer her remains, and assist her family's future needs now that her husband Jason is a single father. LeRocque's mother also wants to fly to Las Vegas before her daughter is cremated so she can say her last goodbyes. LeRocque's aunt Gloria Murdock started a GoFundMe with a goal of $25,000. The Greg Hill Foundation, started by a Boston radio host, is also raising money and will match all donations up to $10,000.
LeRocque's sister Korina Champagne posted on Facebook about the devastating loss in her family. "My heart is broken, I'm numb, I feel paralyzed," Korina wrote. "This doesn't seem real. All I can do is turn to God's Word for comfort, just as she would want me to."
Police have identified 64-year-old Stephen Paddock, a Mesquite, Nevada, resident, as the suspected Las Vegas gunman. Police say Paddock committed suicide before they broke into his hotel room and found his body along with 23 weapons. Investigators later found 19 firearms, explosives, and thousands of rounds of ammunition in his Mesquite home, around 80 miles northeast of Las Vegas. Terrorist group ISIS has claimed responsibility for the attack, but the FBI said it found no link between the Las Vegas shooting and any terrorist organization, international or local. Paddock's brother has expressed his shock to the press, saying Paddock showed no indications of political or religious extremism. The gunman's motives are unclear as of now.
The Las Vegas mass shooting is considered one of the deadliest shootings in modern U.S. history. There have been more than 200 mass shootings in 2017 so far, defined as incidents where four or more people excluding the shooter have been shot.
The Los Angeles Times has added LeRocque's picture to their "Portraits of the fallen" for Las Vegas shooting victims, which is continuously updated as victims become publicly identified.