Las Vegas Victim Rocio Guillen Rocha Was A Loving "Supermom" To Her Four Children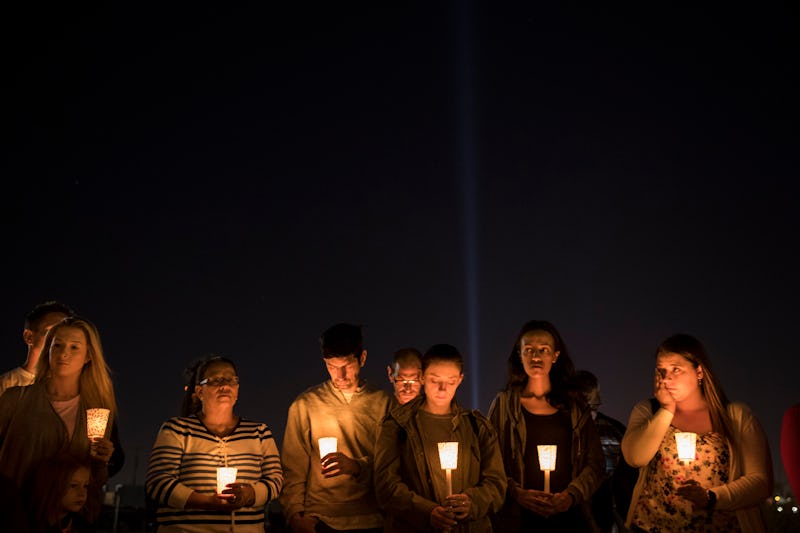 Drew Angerer/Getty Images News/Getty Images
She was a runner. An assistant manager at a restaurant. A long-time Disney cast member. A traveler and a country music fan. But if you consider who Las Vegas shooting victim Rocio Guillen Rocha was, the most important thing to talk about is that she was the loving and deeply supportive mother of four children — one of whom she was still on maternity leave for.
"She loved sports and being a supporting baseball mom. Her greatest accomplishment was being a mother as she would always say," her cousin Vanessa Pineda Rocha wrote on the GoFundMe page she created to help Rocha's family after her death. "She was a supermom, always working hard and juggling everything to be the best mom to her 4 children." Her four children are Marcus, 18; Christopher, 13; Sofia, 1; and Austin, a one-month-old.
She and her fiancé, Chris Jaksha, were avid country music fans, and they had gone to the Route 91 Harvest for a friend's birthday. Rocha was reportedly shot in the upper thigh. Although she managed to escape with Jaksha — which even reportedly included climbing a fence — and make it to an area hospital with a tourniquet wrapped around her leg, she later died of her wounds in the hospital.
Rocha was also a longtime runner, and her coaches and teammates from her high school track and cross country teams remember her fondly. "She had a great sense of humor and always had people laughing — even through the tough times. She will sorely be missed," her former coach Mike Cochrane told the Las Vegas Review-Journal. He further described her as the "glue that held the team together."
Her former teammate and good friend Erick Miramontes reminisced about her constant good spirits and joking manner. "I'm truly heartbroken for her children because Rocio was really just a special person," he said to the Las Vegas Review-Journal. "She had a certain aura about her that made others around her feel good and in better spirits. She will be truly missed."
She still loved being active, and besides going on trail runs and training for marathons with her friends, she was also into boxing and traveling. Her favorite places to run were the picturesque the Santa Ana River bottom and the Turnbull Canyon trails in Whittier.
When she and Jaksha went to the festival, their first trip since the birth of her fourth child, oldest son Marcus Guillen was on vacation, the Press Enterprise reports. He was on the way home when he heard about the shooting, and he immediately texted Jaksha to see if everything was okay. When Jaksha said that Rocha had been shot in the leg, Guillen texted her immediately. "I texted her, 'I love you. Are you OK?' but she never texted back. I guess she didn't have her phone on her," he told the Press Enterprise.
Her ex-husband also had some touching words upon hearing of her death. "Words cannot explain how much is hurts me to see the pain in my boys' eyes when they found out that their mom was taken from them last night in Las Vegas by a senseless act of violence," he wrote on Facebook.
Jaksha's sister, Nikki Stowers, is now helping to care for the children that Rocha left behind, and her words about the woman who was soon to be her sister-in-law really cut to the chase:
She was such a great mom. My parents have a house by the river and she loved going out there and taking the kids. Just being a family person. She was that type of mom who just loved holding her kids. And she loved her two older boys so much — just watching them play sports. It's so unfair that she's had her life taken away.
But now, because of the work of an absolute madman, Rocha's life was taken away. Her fiancé, according to his mom, has "lost his life partner and now has two babies to raise on his own," in addition to dealing with the guilt he feels wondering why he survived and she didn't. Jaksha and Rocha's children do have the results of the successful GoFundMe campaign started by Rocha's cousin — but they lost something much, much more important than money.