One Of The Manchester Attack Victims Is An 8-Year-Old Girl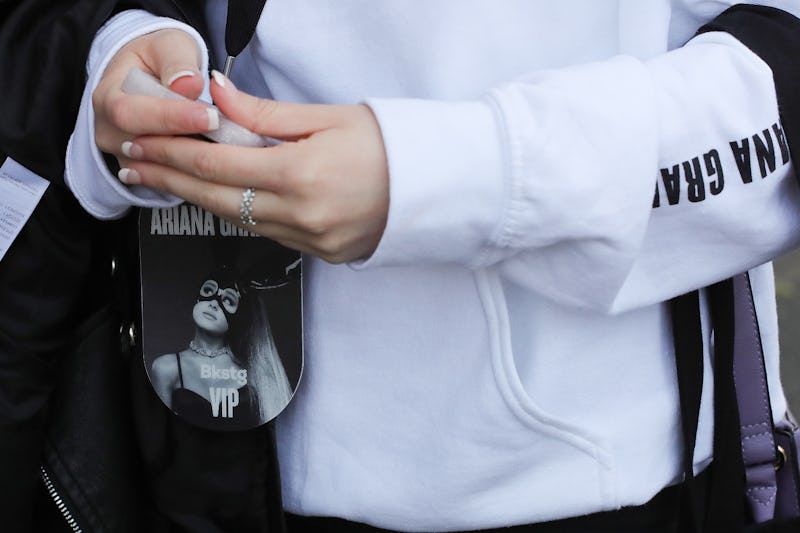 Christopher Furlong/Getty Images News/Getty Images
The details of Monday's terrorist attack at an Ariana Grande concert in England keep getting worse — hospital officials have identified Saffie Roussos, eight years old, among the Manchester fatalities. The death toll rose on Tuesday from 19 to 22, along with a reported 59 others suffering from injuries. Grande's fanbase is largely made up of young children, specifically little girls, which unfortunately sets the expectation that the majority of those who perished will fall in that demographic; CBS News previously reported that "a large group of young girls are among the 19 dead."
Saffie attended the concert with her mother, Lisa, and older sister, Ashlee; both are currently receiving care for shrapnel injuries, according to a Facebook post published by a family friend named Hannah Melling.
The 8-year-old was a student at Tarleton Community Primary School, where she is being mourned by students and staff. "Saffie was simply a beautiful little girl in every aspect of the word," said Chris Upton, the school's headteacher. "She was loved by everyone and her warmth and kindness will be remembered fondly. Saffie was quiet and unassuming with a creative flair." He added that the school would focus on helping students and staff cope with the tragedy.
Kate Tinsley, mother of Saffie's best friend, wrote on Facebook that her daughter had gone to school still unaware of the news. "I've tried to contact Saffie's mum and none of the message have gone through on the phone. Jessica has gone to school today not knowing a thing," she wrote. "My daughter is best friends with her in school. Everybody is worried, the whole village. Everybody is in bits waiting for news, just some news that she's okay, she's alive."
Saffie is the second victim of the Manchester attack to be identified, the first being 18-year-old Georgina Bethany Callander, a student at Runshaw College who'd previously met Ariana Grande during a meet and greet in 2015.
Manchester Mayor Andy Burnham delivered a speech on Tuesday morning denouncing the attack. "These were children, young people and their families that those responsible chose to terrorize and kill," he said. "This was an evil act. Our first thoughts are with the families of those killed and injured. And we will do whatever we can to support them." He ended his statement by praising the "spirit of Manchester" that sparked people's motivation to help others as events unfolded across the city and credited that same spirit as the aid that would ultimately allow Manchester to "prevail."
If you'd like to help victims of this tragedy, there are several crowdfunding campaigns dedicated to supporting those affected, as well as other ways you can help.