Las Vegas Victim Sandra Casey Is Being Remembered As A Beloved Teacher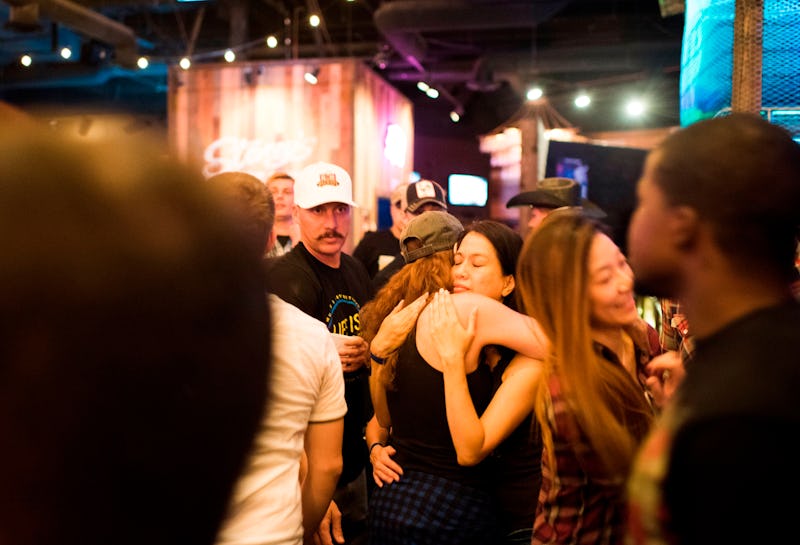 ROBYN BECK/AFP/Getty Images
It never gets easier to read about the inspiring and beautiful lives of the victims of any mass shooting. This case is especially difficult, because the list of victims seems to just go on and on. It never gets any less important, though, and thinking about who Las Vegas victim Sandra Casey was is a touching reminder of why exactly that is.
Casey worked as a special education teacher at Manhattan Beach Middle School in California, a profession that she truly dedicated her life to. She had taught at the same school for nine years, bringing a bright sense of humor and a strong devotion to her students and their learning with her every day. Casey, who was 35 years old, had graduated with a Master's in Special Education in 2005, and according to the people who she worked with, she never lost that passion for her vocation.
"Our students, employees, and parents are devastated by Sandy Casey's death. We lost a spectacular teacher who devoted her life to helping some of our most needy students," said Mike Matthews, superintendent of the Manhattan Beach Unified School District. While several teachers from the same district had all made the trip to the concert, Casey was the only one who lost her life in the shooting.
Casey, of course, wasn't only defined by her job. The Vermont native went to the concert with her fiancé, Christopher Willemse, who also worked at Manhattan Beach Middle School. He had only proposed to her months before, when they two of them were on a trip in New Zealand earlier in the summer. According to her family, this was a particularly joyous time in a life fully lived. In a heartbreaking turn of events, Casey died in Willemse's arms after being shot in the lower back. He tried to stop the bleeding and rush her away to safety, but she didn't make it, the Boston Herald reports. Right before she died, he told her that he loved her and that she was amazing.
Soon after her death, Willemse posted photo of the two of them on Facebook. "As I sit and mourn such a beautiful life gone too fast, all I can say is look up and watch the birds fly high and free today as that's where I feel you smiling down upon all of us," he wrote. "I love you baby girl! Love you to pieces!"
Smiling photos on their timelines of the two of traveling to some of the world's most gorgeous places are yet more evidence of how beautiful her life really was.
Her family was also extremely important to her, and, of course, they've been grieving heavily after losing her. Casey's parents, as her mother's cousin Linda O'Leary told the Boston Herald, "have been unbelievably strong in dealing with the situation. She was a beautiful gal — just beautiful. We have a large, extended family, but boy, they come through."
This closeness to her family is why the GoFundMe page that Casey's friend Carissa Dester set up for her says that the funds raised won't go only to paying for her funeral expenses, but also toward creating a scholarship fund for the eight nieces and nephews she leaves behind.
Vermont Sen. Bernie Sanders also tweeted a message of support for Casey's family, saying that his and wife Jane's "hearts are with her friends [and] family." On the GoFundMe page, Dester writes that Casey was a "beloved daughter, sister, aunt, fiancé[e], school teacher, and friend," so she's left a lot of people mourning.
Casey's not alone, of course, in the circle of mourning people who she leaves behind, and that's exactly what's so tragic about every mass shooting that happens. It's not just the victim's closest family members who will now be mourning this loss for the rest of their lives — it's the students who lost their teacher, the colleagues who lost their peer, the nieces and nephews who will always have a shadow of a memory of the aunt who died when they were all too young to really remember. Remember Sandy Casey, and all of the other people who lost their lives on Sunday night in Las Vegas.