14-Year-Old Sorrell Leczkowski Named As Manchester Bombing Victim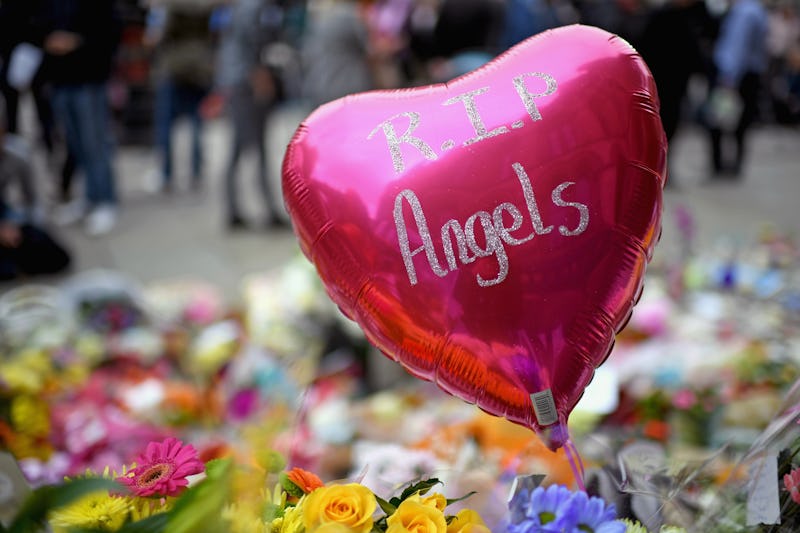 Jeff J Mitchell/Getty Images News/Getty Images
As Britain grapples with the aftermath of Monday's deadly terror attack, many have turned to remembering those who were killed by a suicide bombing outside of an Ariana Grande concert in Manchester, England. Among them was a 14-year-old student from Adel, Sorrell Leczkowski, who was killed in the Manchester attack while picking up her sister from the concert.
"I am absolutely heartbroken to confirm that my granddaughter was killed in the terror attack that claimed so many innocent lives," Leczkowski's grandfather Michael Healey said in a statement released Thursday by the Greater Manchester Police. According to Healey, Leczkowski had gone to Manchester Arena with her mother and grandmother in order to pick up her sister.
Despite her young age, Healey said Leczkowski was the family's "rock" and described her as "such a clever, talented, creative girl." "There was nothing she couldn't do," he said. Leczkowski had dreamed of studying in the United States and becoming an architect, her grandfather said.
"She was going to be an architect and wanted to go to Columbia University in New York to study so that she could build hotels with slides coming out of the rooms and, so that she could build her mum a house," Healey said.
In a statement from officials at the high school Leczkowski attended in Leeds, the 14-year-old was remembered as "a delightful member of the school community." Allerton High School headteacher Elaine Silson confirmed Leczkowski's death in a letter to parents.
"Our whole school community is extremely shocked and saddened by this and our thoughts are with Sorrell's family and friends at this very difficult time," Silson reportedly wrote, adding, Leczkowski "enjoyed her studies, had a lovely group of friends and was a real asset to Allerton High School."
According to family, both Leczkowski's mother and grandmother are being treated for injuries sustained in the deadly terror attack. As of early Thursday, Leczkowski's mother was recovering from surgery while her grandmother remained in intensive care. Her sister was not injured.
A suicide bomber killed 22 people in the blast outside Manchester Arena shortly after Grande's concert ended. Among those killed were an 8-year-old girl, an off-duty police officer, multiple parents, and at least eight teenagers. British Prime Minister Theresa May raised the country's terror threat level to critical, the nation's highest level, shortly after the bombing in a signal that authorities consider another attack likely.