Steve Berger, A Las Vegas Victim, Was The "Greatest" Dad & A Loyal Friend
by Priscilla Totiyapungprasert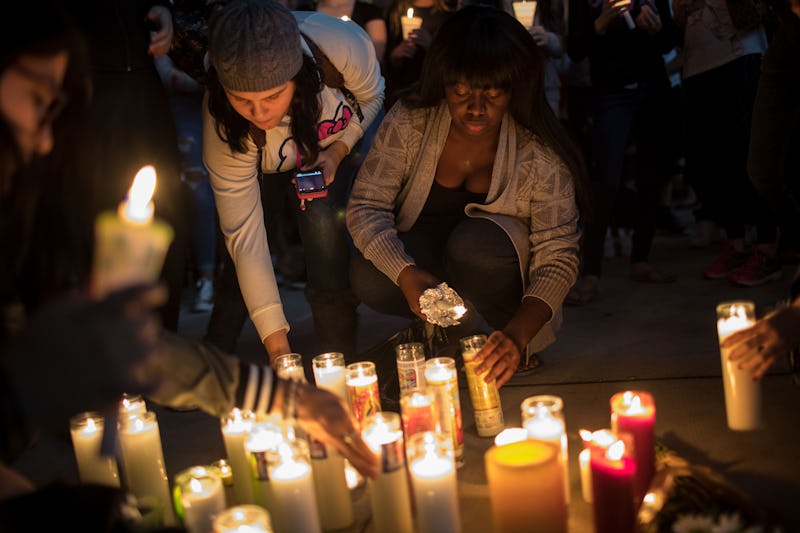 Drew Angerer/Getty Images News/Getty Images
Steve Berger, a 44-year-old father of three, was celebrating his 44th birthday with his friends when he was killed in the Las Vegas mass shooting on Sunday.
"He was the greatest father for his three kids that you'd ever want," said his father, Richard Berger, to CBS Minnesota. Steve Berger raised his three children, now ages 8, 12, and 15, after his ex-wife suffered a stroke. Richard said his son dropped his kids off in the morning, ran a financial planning business during the day, and took his kids to soccer practice in the evening. Berger attended all his children's sporting events and activities, said his best friend Josh Decker in an interview with KARE 11. He described Berger as a "firm and fair parent" who told his son he couldn't play sports if he didn't do his homework.
Decker was one of the friends who accompanied Berger to the country music festival Route 91 Harvest, where a gunman on the 32nd floor of the nearby Mandalay Bay Resort and Casino rained bullets on the crowd with a rapid-fire weapon. As chaos erupted and people began toppling over each other, Decker and Decker's girlfriend dropped to the floor. He saw Berger, just out of arm's reach, lying motionless on the floor and covered in blood, Decker recounted. But shots were still firing and he didn't know where they were coming from. Three other friends tried to revive Berger until a SWAT team arrived, ordering people to leave as the gunman was still active and no ambulance would come. The coroner's office in Las Vegas confirmed on Tuesday the news friends and family were dreading: Berger had died.
"I watched my friend die in front of me," Decker said as he shared his experience of the attack to the Minneapolis Star Tribune.
Berger grew up in Wauwatosa, Wisconsin, a suburb of Milwaukee, before moving to Minnesota to attend St. Olaf College. At 6 feet 6 inches, Berger also played basketball at St. Olaf. He and Decker met each other in 1991 when they were college roommates. Decker described Berger as charismatic, full of energy, and "larger than life," the type of man who "breathed life into every room." Their friendship blossomed over a shared interest in sports, business, and having adventures together, Decker said to KARE 11. The best buds would later work together at EFS Advisors, the financial planning company where Berger worked before he died.
"He had my back and I had his," Decker said. "We were inseparable for many years. Our friendship was 10 out of 10."
Friends and family of Berger have described Berger to Minnesota news outlets as a devoted family man and avid fisherman who loved work, could talk about stocks, and was competitive about sports. "We've got a long road ahead of us," his father, Richard, said to the Las Vegas Review-Journal. Back in Berger's hometown of Wauwatosa, his former classmates also mourned the loss.
Flowers "Redell" Nash, who attended elementary and middle school with Berger, told the Milwaukee Journal Sentinel he once felt out of place as one of the few black students. But Berger "took some of the isolation I felt and took it away." Nash used to hang out at Berger's house and he credits himself with getting Berger interested in basketball. Even after moving away, the two would still meet up — as opponents on the college basketball court.
Berger's friend Chad Hudnall has started a Gofundme for Berger's kids, indirect victims of the Las Vegas mass shooting. "We hope to honor Steve by establishing a trust for his three young children — with the hope it will help them in their college pursuits later in life."