Tara Roe Smith, One Of The Vegas Victims, Is Remembered As A "Beautiful Soul"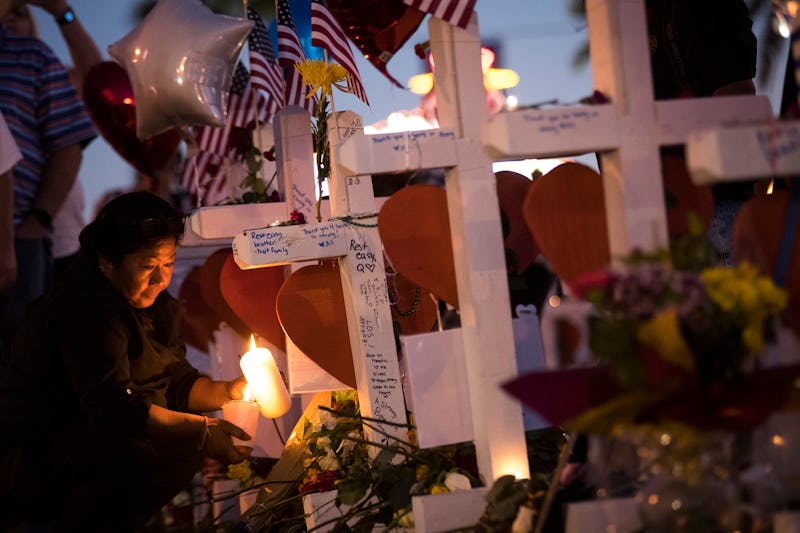 Drew Angerer/Getty Images News/Getty Images
Tara Roe Smith had traveled all the way to Las Vegas from Okotoks, Alberta in Western Canada with her husband, Zach, leaving their two kids in the care of her parents for a weekend getaway. The couple attended the Route 91 Harvest Festival, and were together when a gunman started firing from the 32nd floor of the Mandalay Bay hotel and casino Sunday night. The two separated during the shooting, and she was hit by a bullet. Tara Roe Smith was among the 58 Las Vegas shooting victims.
"She was a wonderful mother and our family is going to miss her dearly," Val Rodgers, Roe Smith's aunt, told the CBC. Rodgers referred to Roe as a "beautiful soul."
"We remember her as an active, young girl who enjoyed dancing, swimming, and especially being at Clear Lake—her favourite summer spot," wrote Roe Smith's parents and sister in a statement. "As a young woman, she was kind and caring, always looking for ways to help family and friends and others in our community."
Roe Smith worked as a model for the Sophia Models International agency in Calgary, Alberta for 10 years. According to her former boss, Bill Giofu, "she was always a friendly face when she came in to see us at the agency, a very caring spirit."
Sophia Models International posted a statement of condolences on Facebook, writing that Roe Smith "was always a friendly face and had a very caring spirit."
Roe Smith also worked at Foothills School Division as an educational assistant. The school will be providing a crisis response team to staff and students who have been shaken by Roe Smith's death. "It has been a challenging time for our division, yet we continue to stand together and support one another," said superintendent John Bailey.
Loretta Hamilton, who has been friends with her parents since Roe Smith was a child, told the CBC she would remember Roe Smith's passion for her work in education, and as a caring member of her community and a mother to her children. "The hearts that have been broken today by Tara's loss … it's just mind blowing," said Hamilton.
Immediately after the shooting, Roe Smith's family and friends were unsure about Roe Smith's fate, and started a social media campaign trying to ascertain her whereabouts. Roe Smith and her husband were separated in the midst of the shooting. It took hours for Zach to find her.
"My heart just bled for him all day as he tried to find her," said Hamilton.
In the days following Roe Smith's death, some friends of the family started a GoFundMe to help her husband and kids deal with the loss of the family's mother. The fundraiser started with a goal of $100,000, but has reached more than $150,000 in the days since. In a statement released on Friday, Zach, her husband, wrote, "Our heartbreak is deep, and these incredible expressions of love and support are helping us get through this senseless tragedy."
Zach described his wife as "a person who was the rock of our family, an amazing friend to so many people, a person dedicated to the community, and someone who – if she were here today – would be doing everything she could for people in a similar circumstance. I don't think she had any idea how important she was to so many people in our community and beyond."
In the wake of Roe Smith's death, her family is resolutely trying to stay strong. The statement from her parents and sister ends: "This tragedy will not be what defines us. We will move forward with the memory of Tara as our strength."