Troy "TeeTee" Dangerfield Is Tragically The 16th Trans Woman Murdered In 2017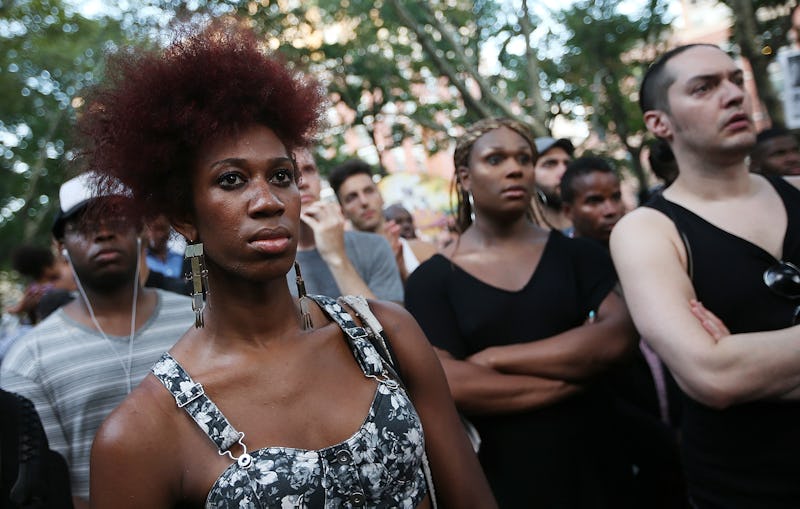 Mario Tama/Getty Images News/Getty Images
Police in the Atlanta area are currently investigating the death of Troy "TeeTee" Dangerfield, a transgender woman — and, tragically, the 16th trans woman to be killed this year. Her death was a result of a shooting, which occurred around 4:30 a.m. EST outside of an apartment complex in the College Park area. Police found her in her car after she had been shot, and she was then transported to Grady Memorial Hospital, where she passed away. Police currently have no suspects in custody, and the investigation is still going on.
Speaking to the Atlanta Journal-Constitution, Maj. Lance Patterson of the College Park police said that they had not yet been able to define a motive in the case. "At this time we have no information that points to the shooting being the result of our victim being transgender," Maj. Patterson said. However, violence against transgender people, particularly transgender women of color like Dangerfield, is a well-documented and troubling phenomenon. Dangerfield is the 16th documented transgender person to have been killed this year, but the actual number is almost certainly higher, as transgender individuals are sometimes misgendered in death by authorities and even by their family members. To paint the matter even more starkly, of those 16 transgender people who have been killed in 2017, 14 of them were transgender women of color.
Not much of Dangerfield's life is publicly available online, but a friend of hers who identified herself as Desiree told Mic. that "she was a sweet person, she's always been a sweet person." The two of them knew each other from clubs in the area, where they would dance together and where people often said that they looked alike.
Tragically, though, Dangerfield now joins the all too long list of transgender people killed in 2017. Her death comes at a particularly sensitive moment, as another transgender woman of color, Ava Le'Ray Barrin, was killed only recently in Athens, GA. It's also only a week after comedian Lil Duval made some extremely transphobic comments on the "Breakfast Club" radio show. He essentially said that he would kill a trans woman who didn't disclose her trans identity before having sexual relations with him, and then refused to back down from the position throughout the show. Numerous trans rights activists and allies spoke out against him on Twitter and elsewhere, including Laverne Cox. "It hurts my spirit cause this isn't funny. Our lives matter. Trans murder isn't a joke," Cox wrote.
Dangerfield's life mattered and her death proves yet again that violence against trans people — especially trans women of color — needs to stop now.