More Than 20 People Are Dead After A Mass Shooting In Las Vegas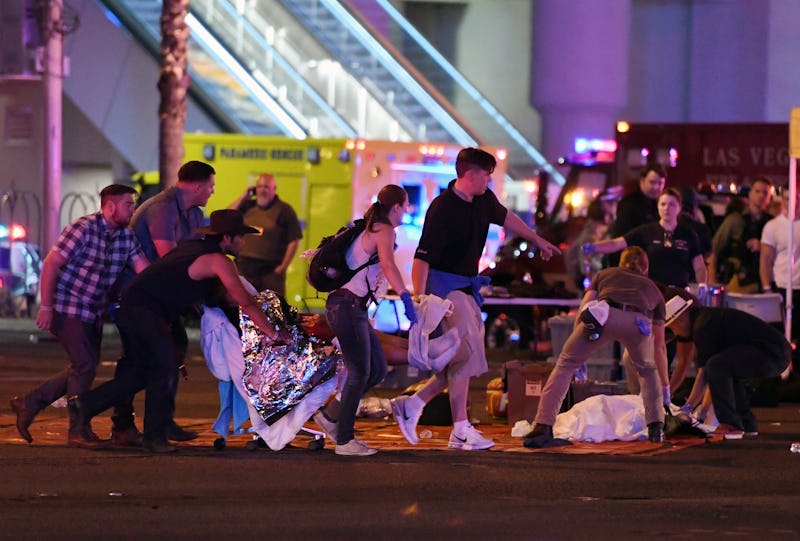 Ethan Miller/Getty Images News/Getty Images
More than 50 concert-goers at the Route 91 Harvest music festival were gunned down and killed by a Las Vegas Strip shooter at the Mandala Bay Casino late Sunday night. The concert was in high gear when the gunfire began at about 10:00 p.m. local time. Country singer Jason Aldean, one of the festival's headliners, was performing when shots rang out. The music stopped and people began to duck for cover in the outdoor venue and try to get out as the shots continued to rain down for the next 10 to 15 minutes.
The automatic gunfire was coming from across the street, from the 32nd floor of the Mandalay Bay, according to Las Vegas Metropolitan Police Sheriff Joseph Lombard. In addition to those who were killed, Lombard said more than 200 were injured, including two police officers. More may have been among those injured or killed at the concert while off-duty. The shooter was ultimately taken out just before midnight. A woman seen with the shooter beforehand, was taken in for questioning.
Little is known about the victims at this point in time except for what they had in common, a love for country music. The Route 91 Harvest music festival was huge party on the Strip until the attack began. In its fourth year, the event was over three days and featured Jason Aldean, who was playing at the beginning of the attack, as well as Maren Morris, Sam Hunt, Eric Church, Jake Owen, and Lee Brice. Even newer names in country played on a smaller stage.
The event's social media features round-ups of the first days that show a sun-filled party atmosphere, complete with attendees partying on stage-side in cowboy boots and cowboy hats. The concert-goers overall seemed to be mostly young, having a really good time. In the video of Saturday, daytime turns into night. The fun-filled atmosphere continued, but on Sunday that's when the mayhem broke out.
Information about the individuals who were killed has not been shared as the families of the victims are likely still being contacted. If you're family or friends of someone who was at the concert, you can call 1-866-535-5654 for information on their condition. With more than 50 shot and killed, this is the most deadly mass shooting in U.S. history, surpassing the attack at the LGBTQ Pulse night club in Orlando last year.
Some photos of victims that have been shared online are a hoax, Buzzfeed News reported. What is clear is that one of those killed in the crowd was an off-duty Las Vegas police officer. Sheriff Lombard told reporters that the investigation will be long, potentially delaying the release of information surrounding those who were killed.
Aldean, the singer who was onstage at the beginning of the attack, has sent out his condolences via Instagram. "My thoughts and prayers go out to everyone involved tonight. It hurts my heart that this would happen to anyone who was just coming out to enjoy what should have been a fun night," he wrote.
Other country stars who participated in the festival also took to social media to share their condolences or to explain what they saw happen during the attack. "Praying for everyone here in Vegas. I witnessed the most unimaginable event tonight. We are okay. Others aren't. Please pray," Jake Owen, the singer who was on just before Aldean wrote on Twitter. He seemed to have sent out a tweet during the attack too, sending love to his followers and Pearl, his daughter.
Josh Abbott, the lead singer of Josh Abbott Band, said that he had been separated from his fiancée who was locked down in the Mandalay Bay, but that everyone in his group was OK. "Everyone in JAB is accounted for. They evacuated us from Mandalay. My fiancée is still in room. They won't let me in but she's safe," he wrote.
Sadly more than 250 festival-goers were not so fortunate, and their families will surely be checking their social media, hoping for signs of their survival this morning.