Those Who Died In The London Attack Have Yet To Be Identified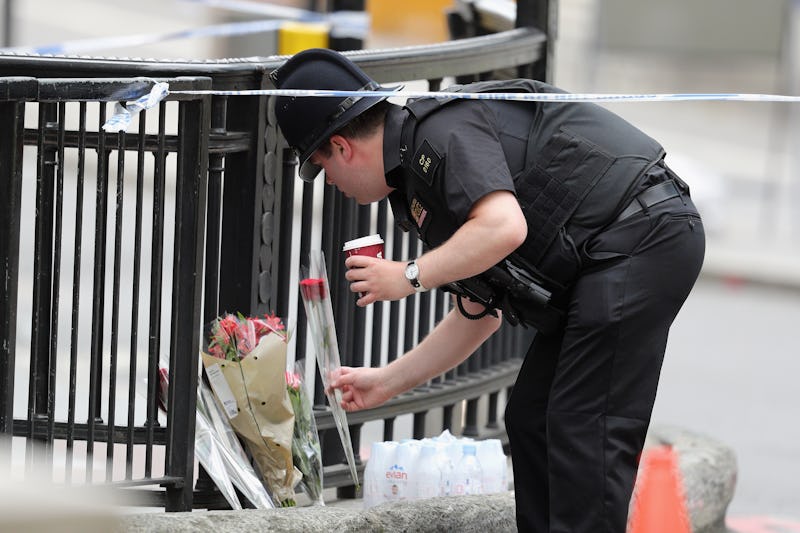 Dan Kitwood/Getty Images News/Getty Images
At least seven people were killed with dozens more injured when three assailants used a van to mow down pedestrians on London Bridge before going on a stabbing rampage in nearby Borough Market. As the investigation into the attack continues, Londoners and numerous people within the international community have already begun honoring those lost in Saturday's attack in central London. So, who are the victims hurt or killed in the London attack?
While the names of those who died in the attack have yet to be released, it has been reported that a French citizen and a Canadian citizen were among the seven people killed. Officials from both countries condemned Saturday's attack and expressed their sympathies for all who had been affected. But while not much is yet known about those who lost their lives, five London hospitals have been treating dozens of people injured in the attack.
In a statement released early Sunday, the London Ambulance Service said 48 people had been taken to nearby hospitals while "a number of other people" had been treated at the scene of the attack Saturday. According to the BBC, 21 people are reported to be in critical condition and at least eight people have since been discharged.
Among the injured are three officers from the Metropolitan Police force and one officer from the British Transport Police who reportedly sustained injuries as they fought to subdue the three assailants. According to reports, the British Transport Police officer and one of the injured Metropolitan Police officers are in critical or serious conditions.
In an interview with the BBC, the mother of 23-year-old Daniel O'Neill said her son had been stabbed in his side during the attack but was now recovering. Journalist and Sunday Express business editor Geoff Ho was also identified by friends as someone injured when assailants attacked people at Borough Market with knives. He was reportedly treated for at least one stab wound.
The Sydney Morning Herald reported 34-year-old Candice Hedge, who currently lives in London but hails from Brisbane, underwent surgery after being stabbed in the throat during the attack. Hedge's mother told Fairfax Media her daughter was unable to talk at the moment, but was "going to be fine."
According to the Telegraph, the family of a New Zealand citizen identified as Oliver Dowling reported he was stable but in an induced coma after being stabbed in the face, neck, and stomach. "Doctors are very happy with how he's come out the other side," the Telegraph reports Dowling's sister wrote on Facebook. Seven French citizens and an unknown number of German citizens were also reportedly injured in the attack, according to reports from foreign officials.
A vigil will be held for victims Monday at Potters Fields Park in Southwark, a statement posted to the London Assembly website read.