'Legacies' Is Basically One Big 'TVD' & 'Originals' Reunion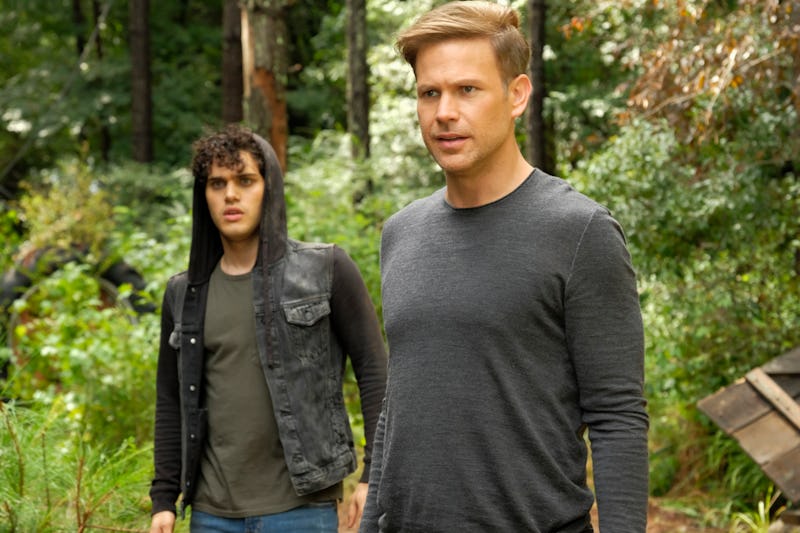 Mark Hill/The CW
Mystic Falls has always been a magnetic field supernatural activity, so when it was revealed that the new CW series Legacies would be taking place there, longtime fans of The Vampire Diaries and The Originals knew this latest spinoff would pack a pretty big magical punch. But going back to the town that set the original storylines into motion makes you wonder what kind of crossovers we can expect. Which TVD and Originals characters will be on Legacies? Luckily, fans are in for some pretty epic reunions.
Legacies will center around Klaus Mikaelson's now 17-year-old daughter, Hope (still played by Originals star Danielle Rose Russell), during her time as a student at the Salvatore School for the Young and Gifted. Longtime TVD fans may recall that this is the very school Caroline Forbes and Alaric Saltzman created in the series finale of The Vampire Diaries. It was there desire to build a safe learning environment for the supernaturally gifted, who wouldn't have to try and hide who they really are. This includes Caroline and Alaric's twin daughters, Josie and Lizzie Saltzman, as well as Hope.
Given the integral role they had in making this school a reality, it'd be easy to assume both Alaric and Caroline will play pivotal roles in Legacies. However, it's a little more complicated than that. While Matt Davis' Alaric is set to be a series regular, Candice King's Caroline has no scheduled plans to make an appearance — at least not yet, anyway.
During an interview with Entertainment Weekly back in August, showrunner Julie Plec opened up about how Legacies will explain Caroline's immediate absence, which may seem particularly odd to fans considering both of Caroline's daughters are attending the school and being MIA for big moments in their lives doesn't seem very Caroline-like at all. "They believe she's off on recruiting missions," Plec explained to EW, adding:
"Alaric knows she's actually off doing other things that have to do with the long-term survival of their daughters. So the mystery of, where is Caroline, why isn't she coming home for their birthday, that kind of thing is gonna be part of our story in the hopes that one day we'll be able to walk to have her walk through the doors as well."
So no, Caroline won't be among the returning TVD characters for now, but Plec definitely intends on incorporating her into the story down the line. "I don't know when we'll see her," she told EW during the same interview. "I, of course, would like to see her anytime. The door is open. But the girls are dealing with the fact that their mother, who has raised them, is a little absentee lately."
However, Alaric won't be the only familiar face popping up in Mystic Falls. Both Steven R. McQueen and Zach Roerig — who played Elena's brother, Jeremy Gilbert, and Elena's ex-boyfriend, Matt Donovan, respectively — will appear on Legacies' first season.
Those who watched the end of The Originals know that it'd be impossible for Klaus or Elijah to appear on Legacies, however, fans should also not expect any of the other Mikaelsons to show up in the foreseeable future because, according to TVGuide, none of other Originals cast members have signed on to be in Legacies. So apart from Alaric, Jeremy, Matt — and maybe Caroline down the line — the TVD reunions will be somewhat limited, but still definitely worth tuning in for this fall.