Florence + The Machine's Support Act For Their UK Tour Will Get You So Excited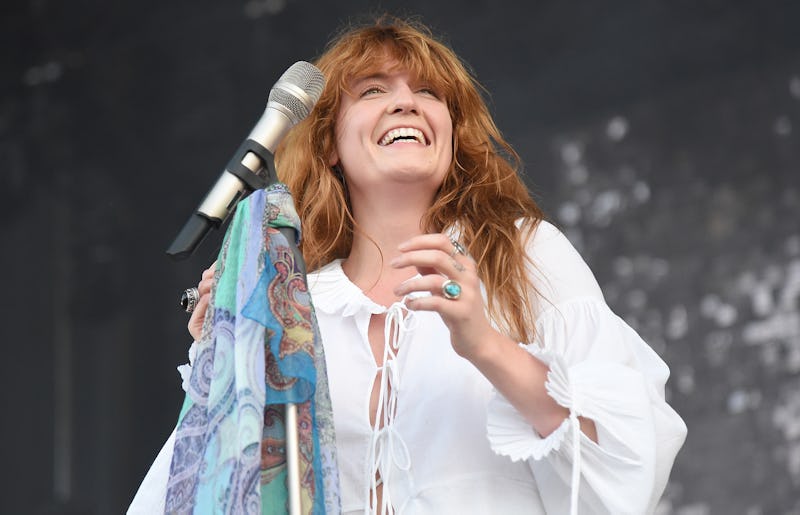 Jason Merritt/Getty Images Entertainment/Getty Images
After releasing their first album in three years back in June, Florence + The Machine are taking the new material on the road. Their fourth album High As Hope joins a collection of releases that are full of harp, love, happy theatrics, and Florence's patented well, Flo-ness. And their live shows match the music. They're some of the most life-giving and connecting concert experiences you could hope to have, and their next tour is about to take off. They'll soon be starting her slew of shows across the globe, but who will be supporting Florence + The Machine on tour?
Fellow stans, I have good news; on their UK tour, which starts next month, Florence + The Machine will be supported by the super cool New York band Wet, who, trust me, bring the bangers with their specific brand of dreamy indie pop. They're definitely an act to get to the arena early for. In 2015, The Fader praised them for having "what it takes for everyone to care about an indie band." And in 2014, Billboard called them the band that you really need to know about. They returned earlier this year after a two year hiatus, with the ultra boppy album Still Run, so it's great time to go and watch them live on stage. The Fader referred to it as "perfect emotional pop", while Northern Transmissions called it "intoxicating to say the least."
At the moment, Florence + The Machine are performing gigs across the States, but they will be returning to the UK in November, which is when they will begin a series of massive arena shows, with venues big enough to soak up all of Flo's gigantic sound. Florence + The Machine first announced their huge UK arena tour in support of High As Hope on May 25, as NME reported, with the first gig set for Nov. 15 in Leeds' First Direct Arena.
Now, here come the spoilers. From the looks of Setlist.fm, the band has played a very similar set list each night during their U.S. tour so far. If you're looking for hints as to what songs you can expect the band to play, during the American leg of their tour, the band performed plenty from the new album. The group have been kicking off their shows with the first two tracks from High As Hope — 'June' and 'Hunger' — before diving into Ceremonials territory with the lovelorn 'Only If For A Night'. But it's not all deep cuts, don't worry, and of course Flo and the gang have thrown in her biggest hits for good measure.
Expect to hear 'Dog Days Are Over' and more of the hits that made her big like 'Cosmic Love'. Since the set list has been pretty streamline so far, you can probably expect something similar on their UK tour. And with the solid reviews the U.S. tour has been getting, that's definitely no bad thing. Uproxx rhapsodised about it as writer Chloe Gilke said "High As Hope reaches out, jumps off the stage, and dances with us on the lawn." Now, as of writing, there's only about a month left to go, so it's time to buy tickets, 'Shake It Out', and dance to the 'Drumming Song'.