Here's Who May Die In The 'Vampire Diaries' Finale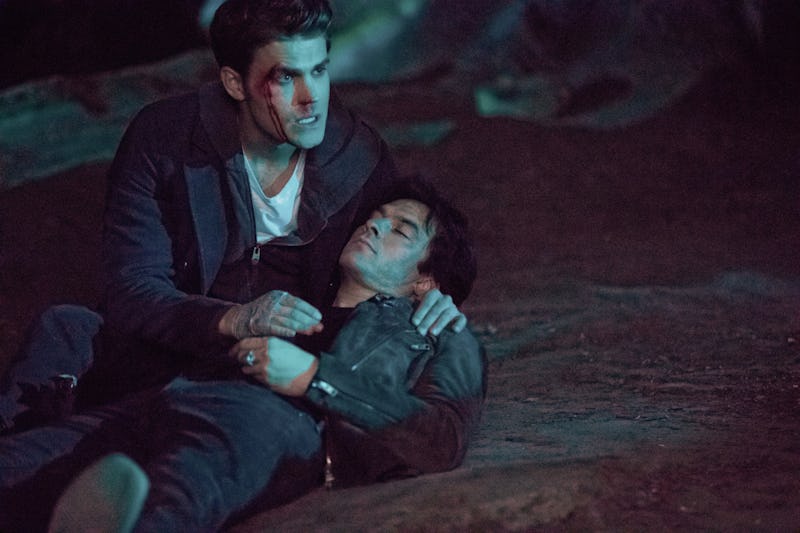 Bob Mahoney/The CW
The end is finally here. The very last episode of the Vampire Diaries is airing and it could not be more depressing. We know that someone won't make it through the episode and it seems obvious to think that Bonnie Bennett will die, but I think there are some other people to consider. Julie Plec and Kevin Williamson promised a major death in The Vampire Diaries series finale. "We wanted to go big, emotionally, with the action, and with the spectacular of it," Plec told Entertainment Weekly about the death. As of now we have to consider all the possibilities, especially since we know Katherine will show no mercy.
I consider the last episode to be the calm before the storm. Sure, a house blew up, but no one died and we finally got the June wedding we'd been waiting eight seasons to see. At the end of the episode, Vicki Donovan was back ringing the Maxwell Bell that will open the doors to hell bringing back what I assume will be all our dead favorites. At the same time, Bonnie has collapsed and Stefan is trying everything he can to keep her alive.
Basically there's a lot of stuff that's about to go down and Julie Plec called it the "worst wedding night ever." So from least likely to mostly likely, here's who I think is probably going to die in the Vampire Diaries series finale.
Alaric Saltzman
Considering they've already confirmed that Alaric Saltzman will guest star on The Originals in the upcoming season, it seems like he's the safest one of them all. We know for sure Alaric stays alive.
Elena Gilbert
It seems kind of silly to wake Elena up just to kill her. We've pretty much all gotten used to Mystic Falls without her around, so it wouldn't feel too heartbreaking if she died in the final episode. I'm going to say Elena is probably safe.
Damon Salvatore
It would be beyond messed up to have Elena wake up just to kill Damon, keeping them apart forever. Even Julie Plec wouldn't do that to Delena fans. It's too mean.
Matt Donovan
It's pretty freaking remarkable that Matt Donovan has gone this long as a human and lived to tell the tale, yet somehow here we are. He could die, but I don't think it's dramatic enough for a series finale death. I think he's the last one who's remained human from start to finish and there's some kind of peace in that. I think they will keep Matt Donovan around.
Bonnie Bennett
At the end of the last episode Bonnie collapsed making us believe that she's dead, but I wouldn't be too sure. Until we see Elena awake, Bonnie will still be around. I believe that Bonnie could be the one to die in the end since that's how Elena is meant to wake up, but we'll all be expecting her to die. If they wanted to surprise fans, killing Bonnie wouldn't do that.
Caroline Forbes
Caroline has become a fan favorite over the years and would definitely be a heartbreaking death. It's horribly depressing to kill a mother of two young children, but Katherine has always been obsessed with keeping Stefan to herself. I wouldn't be surprised if she gets a bit jealous and takes her revenge out on Stefan's new bride.
Stefan Salvatore
As long as both Salvatore brothers are alive, the same endless circle of saving each other will repeat. It seems like the only way to push the story forward and to a close is by killing one of them. I know it's depressing to kill a newlywed, but that hasn't stopped them in the past and I think Stefan would sacrifice himself in order to make up for forcing Damon to turn all those years ago. Sorry, Stefan.