These Are The People In The Running To Replace Jeff Sessions As Attorney General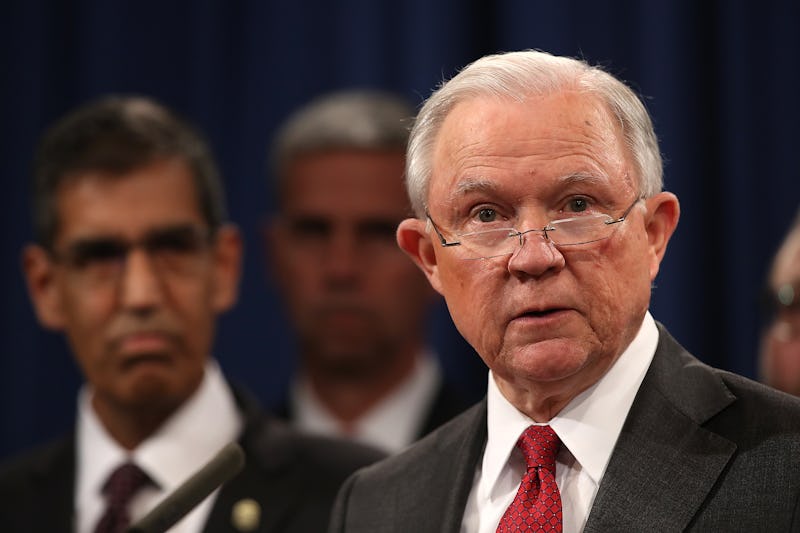 Justin Sullivan/Getty Images News/Getty Images
Many people knew it was inevitable. Jeff Sessions resigned as attorney general Wednesday afternoon — just one day after the 2018 midterm elections had Republicans keeping control of the Senate, but Democrats taking control of the House. Following the news that he'd be heading out, President Trump announced who would replace Jeff Sessions as attorney general — at least, for the time being.
Trump tweeted that Matthew G. Whitaker, who currently serves as Sessions' chief of staff, will take over in the interim until someone else is selected. He wrote:
Matthew G. Whitaker, Chief of Staff to Attorney General Jeff Sessions at the Department of Justice, will become our new Acting Attorney General of the United States. He will serve our Country well. We thank Attorney General Jeff Sessions for his service, and wish him well! A permanent replacement will be nominated at a later date.
It probably felt inevitable to Whitaker as well. He was in line to take over as deputy acting attorney general if Rod Rosenstein (who has been overseeing the Russia investigation) was fired. Most notable about Whitaker's selection as the acting AG is that last year he wrote an op-ed for CNN claiming that the Russia investigation that was also considering Trump's possible connections was going too far. The Washington Post reported that it's not yet clear whether Whitaker will take control over the investigation, but he certainly hasn't recused himself, like Sessions did.
With all the back and forth between Trump and Sessions over the past year or so, there have been a lot of names bandied about as possible attorney general replacements.
Whitaker, of course, could continue in the position. If Trump likes how he performs as the acting attorney general, he could ask him to stay on. But just a few weeks ago, The Wall Street Journal laid out five people who could potentially take over the role, plus Whitaker. The five names are: Alex Azar, Steven Bradbury, Bill Barr, John Sullivan, and Janice Rogers Brown.
Azar is the current Health and Human Services Secretary. When nominating him for the job, Trump called him a "star for better health care and lower drug prices," though Scientific American pointed out that as the president of pharmaceutical company Lilly USA, Azar came under fire for high drug prices.
Bradbury is the current Transportation Department general counsel and a former top Justice Department official in the George W. Bush administration. Politico reports that his nomination to the Transportation Department was particularly contentious when it came to getting the Senate to confirm him, because Bradbury had assisted in drafting memos that laid out reasons why certain "interrogation techniques" were legally OK to use — something some people said made him complicit in torture.
Barr is actually a former attorney general, having served for a couple years in the early '90s under President George H.W. Bush. He wrote an op-ed for The Washington Post last year praising Trump's decision to "remove" James Comey from his position in the FBI.
Sullivan is the current Deputy Secretary of State. Politico reported in 2017 that State Department employees seemed to be pretty impressed with how he was handling the job.
Brown, the only woman on the list, is a retired federal appellate court judge. She stepped down from her role on the U.S. Court of Appeals for the DC Circuit at the end of August last year, which The Wall Street Journal reported opened up a door for Trump to nominate a conservative judge into a very key position. Brown, who is a woman of color, attended segregated schools as a child, and while she leaned toward liberal politics as a younger adult, she eventually became conservative.
All of these people are just possibilities. Trump could decide to pick someone completely off the radar. But one of these names could be the one you see when a permanent attorney general is chosen.