Here's Who Could Replace John Kelly As White House Chief Of Staff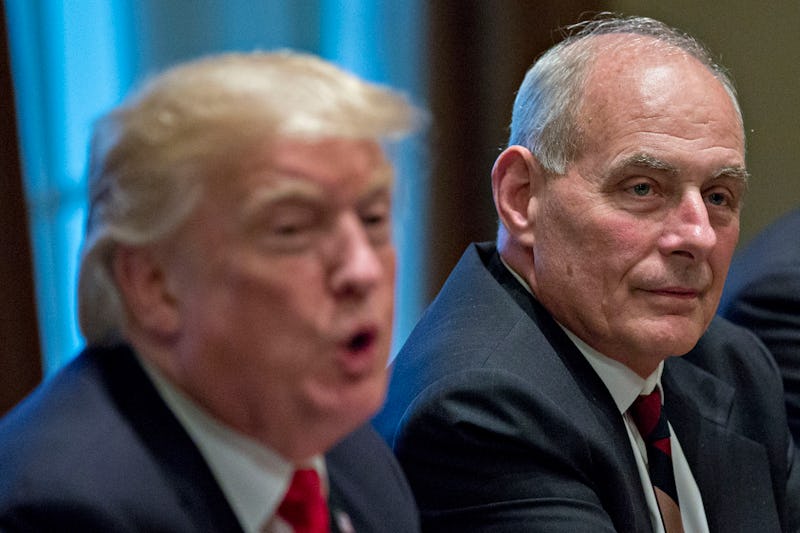 Pool/Getty Images News/Getty Images
On Saturday, President Trump announced that Chief of Staff John Kelly would leave the White House by the end of the year, after serving in the position for around a year and a half, according to The New York Times. Following this departure, many are wondering who will replace John Kelly — and how quickly the president will fill the role.
Kelly first began serving as Trump's chief of staff in July 2017, when he replaced Reince Priebus. Kelly has reportedly always had a somewhat rocky relationship with some members of Trump's administration and family, as Politico reported.
For example, on Nov. 13, CNBC noted that Kelly was reportedly at odds with staff members from the first lady's office. The news outlet indicated that Kelly had supposedly turned down Melania's requests to promote some of her staffers — a decision that the president reportedly overturned later. CNBC characterized this issue as causing tension between the first lady and Kelly, though Melania's spokeswoman, Stephanie Grisham, told the outlet, "Chief Kelly and the First Lady have never 'clashed."
There was no reference made to reported internal White House conflicts when Trump announced Kelly's departure. In his statement on the White House lawn, he called Kelly a "great guy," according to USA Today, despite CNN reporting just the day before that two were no longer on speaking terms.
Speculation about who will replace Kelly has largely centered around two men: Vice President Mike Pence's chief of staff Nick Ayers, who is considered a rising star in Republican politics, and who "possesses the kind of savvy about campaigns that Mr. Trump has craved," according to The Times. Another contender for Kelly's replacement is Office of Management and Budget director Mick Mulvaney, who helped get Trump's tax reform through, according to New York magazine.
Historically, it's not out of the ordinary for presidents to change their staff after midterm elections, according to The Times. Trump was relatively calm and cavalier about former Attorney General Jeff Sessions' departure when he announced it on Twitter on Nov. 7, later telling reporters "People leave," according to the Times. He continued:
It's a very exhausting job — although I love doing it, I must tell you — but it's exhausting for a lot of people. I'm surprised that a lot of people, they start off, they're young people. They're there for two years, and they're old by the time they leave.
USA Today reported that Trump has talked about getting rid of the chief of staff position completely — he reportedly told aides he was "tired of being told 'no' by Kelly," at one point. Complicating matters further are reports that special counsel Robert Mueller's team interviewed Kelly, according to three unnamed sources who spoke to CNN.
News of Kelly's departure reportedly isn't a surprise to many in the White House, according to NPR. He also told the publication in May 2018, "Working in the White House is the hardest thing I've ever done." Well, his tenure has officially come to an end, and it's time for someone else to take up the baton in a White House with the highest turnover in history.