This One Name Keeps Coming Up When People Talk About Nikki Haley's Replacement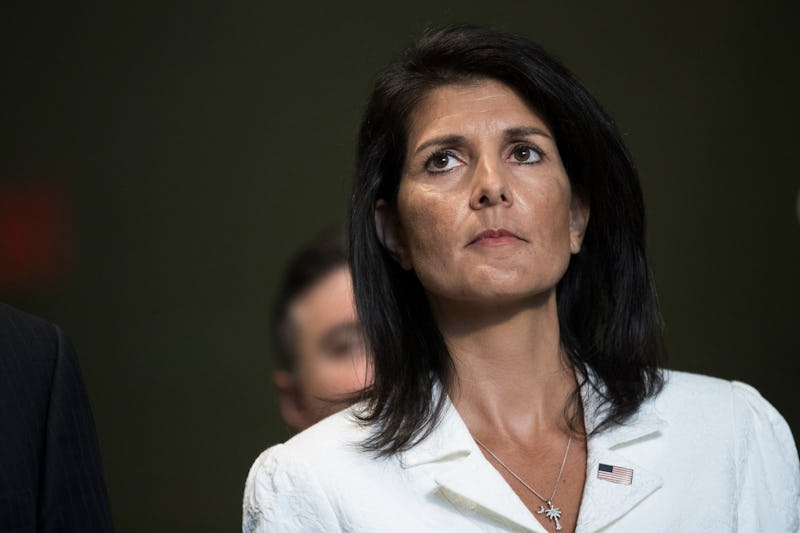 Drew Angerer/Getty Images News/Getty Images
Nikki Haley announced her resignation as U.S. Ambassador to the United Nations on Tuesday, citing the need for "government officials to understand when it's time to step aside." Although President Trump hasn't yet announced who will replace Haley as the UN ambassador, several names have already been floated — including Ivanka Trump and Jared Kushner.
"It has been an honor of a lifetime," Haley said Tuesday, announcing her resignation next to Trump in the Oval Office. "I said I'm such a lucky girl to have been able to leave the state that raised me, and to serve a country I love so very much."
According to the Washington Examiner, the "family favorite" to replace Haley is Richard Grenell. Before Trump appointed him to his current post as U.S. Ambassador to Germany, Grenell was the U.S. spokesman at the UN. He remained in this position between 2001 and 2008, which makes him both the longest-serving U.S. spokesperson to the United Nations as well as the rare political appointee to have served in all of the last three presidential administrations.
In addition to his time at the UN, Grenell has worked for various elected Republican officials, including Mark Sanford, George Pataki and David Camp. He also served briefly as an adviser for Mitt Romney's 2012 presidential campaign, but resigned after some prominent Christian conservatives opposed the presence of a gay man on Romney's team.
Another name that's been floated as a possible replacement for Haley is Dina Powell, who served as Trump's deputy national security advisor for strategy before resigning in December. According to CNN, Powell played a significant role crafting the administration's Middle East policy, as well as Trump's debut at the United Nations in 2017, and was a close confidante of Ivanka. She also served as a senior adviser to Trump on the economy during her time in the White House.
On Twitter, many speculated that Trump might tap Ivanka or Kushner to replace Haley. When announcing her resignation, Haley said that the president's daughter and son-in-law "do a lot of things behind the scenes that I wish more people knew about," and called Kushner a "hidden genius that no one understands."
"I can't say enough good things about Jared and Ivanka," Haley said.
The possibility of Ivanka becoming UN ambassador was discussed in the White House back in 2017, the New York Times reported at the time, and was resurrected on Tuesday by Ann Coulter and others on Twitter. The president himself told reporters later in the day that his daughter would be "dynamite" as UN ambassador, according to CNN's Jim Acosta.
However, a source told NBC News' Peter Alexander that Ivanka is "very happy in the capacity in which she is serving the administration and is not considering any changes," while Acosta reported that the first daughter "laughed at the speculation this morning." It's also worth noting that, despite her high profile, Ivanka has no diplomatic experience — although to be fair, neither did Haley when she was appointed to the position.
Kushner, meanwhile, does have a modicum of diplomatic experience, having overseen the administration's attempts to broker a peace treaty between Israel and Palestine. However, those attempts have been unsuccessful across the board, and Kushner has been criticized by supporters of Palestine for his handling of the situation. Moreover, despite the chatter on Twitter, it's unclear if Trump is actually considering Kushner for the role of UN Ambassador. Bustle has reached out to the White House for comment on the prospect of Kushner or Ivanka replacing Haley.
All of this speculation will come to an end rather soon: The president said Tuesday that he'll announce his replacement for Haley in two to three weeks, according to CNN.