These Are The People Who Could Potentially Take Paul Ryan's Spot As House Speaker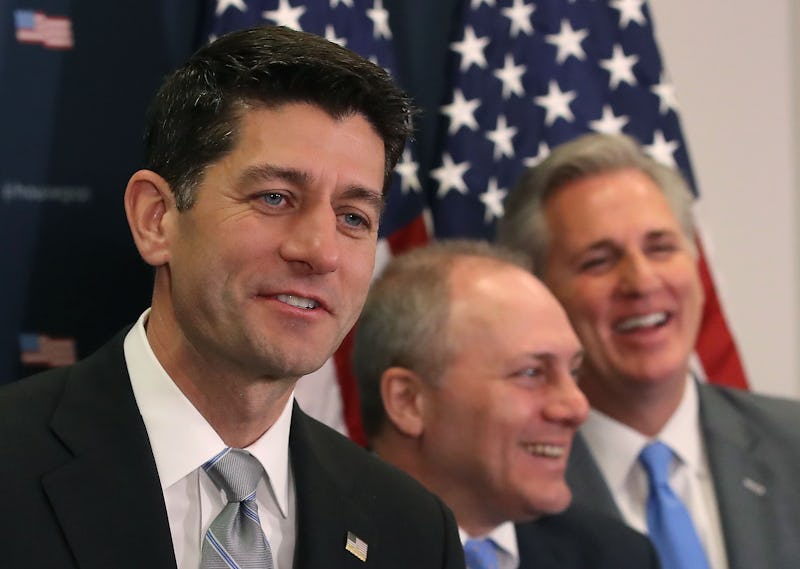 Mark Wilson/Getty Images News/Getty Images
Bombshell reports on Wednesday revealed that the current Speaker of the House will not seek reelection in the fall. Wisconsin Rep. Paul Ryan will retire and leave his spot open for a replacement who could come from either party, depending on which wins a majority in the chamber during November's midterm elections. Speculation is already brewing about who will replace Paul Ryan as House Speaker.
Axios first broke the news of Ryan's retirement on Wednesday, adding that Republican donors might interpret the move as Ryan giving up hope for a GOP majority in the House next year. If Democrats do take back the chamber, the most obvious candidate for Speaker of the House would be Nancy Pelosi, who currently holds the equivalent top position for the House Democrats, "Minority Leader." She served as the House's Speaker when liberals controlled the chamber between 2007 and 2010.
But Pelosi might also leave her seat before that time. She's up for reelection this fall and the candidates running against her hold more liberal views than she does. In part because she's been a face of the Democratic establishment for so long, Pelosi has been a lightning rod in congressional races over the past year. Some progressives disapprove of her ties to corporate donors and her unwillingness to support single-payer healthcare.
If the GOP holds its majority in the House, many conservative names have already been floated for the next Speaker. One is Kevin McCarthy (R-CA), who currently serves under Ryan as the House's Majority Leader. While Ryan has often been called spineless for refusing to outright condemn Trump's norms-defying behavior and prejudiced comments, there's reason to believe that McCarthy's behavior would be similar. In January, The Washington Post noted that McCarthy has had a "singular role as Trump's friend and fixer over the past year," describing it as a "courtship of backslapping and flattery that has led to eye-rolling among Democrats and skeptical Republicans."
Another potential replacement is Rep. Steve Scalise (R-LA), who currently serves as the House's Majority Whip, meaning that he helps organize his party and coordinate its voting. Scalise has suggested that he would not go out for House Speaker if McCarthy wants the job, however, telling Politico, "I'm not running against Kevin for anything."
Scalise gained national attention last June when he and others were shot by a gunman at a charity baseball event. He was sent to the hospital in critical condition, but recovered and was able to return to Congress 15 weeks later. Rep. Mo Brooks (R-AL) recently said that the incident would help Scalise as a Speaker candidate because it transformed him into a "heroic figure." Brooks also called Scalise "a little more conservative than Kevin McCarthy."
Some hardline conservatives have more radical ideas in mind for a House speaker replacement. Because the constitution technically allows for someone who's not a part of the House to take the job, some have floated the idea of selecting a senator, like Rick Santorum (R-WI), or even Newt Gingrich, who served as Speaker of the House between 1995 and 1999 but has been retired from Congress since then.
Other Republican candidates who have been suggested include Rep. Marsha Blackburn (R-TN), Rep. Jim Jordan (R-OH), Rep. Mark Meadows (R-NC), and Rep. Darrell Issa (R-OH). If the GOP does not win the House back in the fall, Republicans will still need to find someone to take over for Ryan — but that person will become the Minority Leader, not the Speaker, and will hold much less power.
Ryan released a statement on Wednesday morning after confirming his retirement. "Serving as speaker has been one of my life's great honors," he tweeted. "I'm proud of all we've done & am ready for new priorities."
Paul Ryan wasn't the only Republican House member to announce his retirement on Wednesday. Dennis Ross (R-FA) also told his staff that he will not seek reelection this November even though he had been campaigning for the spot in recent months.