Here's Who Might Take The Place Of The Embattled EPA Administrator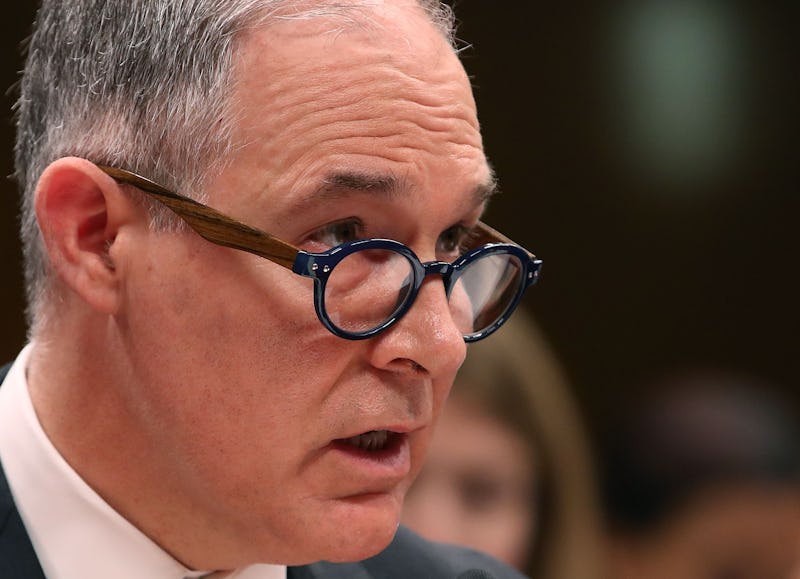 Mark Wilson/Getty Images News/Getty Images
President Trump announced Thursday that the controversial administrator of the Environmental Protection Agency has resigned. It's not yet clear who will replace Scott Pruitt at the EPA on a longterm basis, but Trump said that Pruitt's deputy, Andrew Wheeler, will become acting EPA administrator on Monday.
"I have accepted the resignation of Scott Pruitt as the administrator of the Environmental Protection Agency," Trump wrote in a tweet Wednesday. "Within the agency Scott has done an outstanding job, and I will always be thankful to him for this." He added that he has "no doubt that Andy will continue on with our great and lasting EPA agenda."
Pruitt has faced many unrelated allegations of ethical misconduct since joining the EPA; according to BuzzFeed, he's currently the subject of more than a dozen investigations by Congress, the White House, the Special Counsel's office and government watchdogs.
Among other things, Pruitt has been accused of spending tens of thousands of taxpayer dollars unnecessarily; this included buying a $43,000 private phone booth for himself, an expenditure that the Government Accountability Office later determined was illegal. One of his deputies told lawmakers that Pruitt "insisted" on using police lights and sirens to escort him to social events, and allowed his drivers to "speed through residential neighborhoods and red lights, far in excess of posted speed limits."
It's unclear if Trump intends to install Wheeler as the permanent EPA chief. If he doesn't, there are many others the president might plausibly choose to replace Pruitt.
Before settling on Pruitt in December 2016, Trump was considering several other candidates to lead the EPA, according to Reuters: Jeff Holmstead, a lobbyist for the fossil fuel industry who led the EPA's Office of Air and Radiation for four years under George W. Bush; Mike Catanzaro, a Republican lobbyist and former associate deputy administrator at the EPA under Bush; and Robert Grady, a venture capitalist who served as an associate director for Natural Resources at the Office of Management and Budget during George H.W. Bush's administration.
Additionally, E&E News reported that Trump had some other candidates in mind as well, including Craig Butler, director of the Ohio EPA; Kathleen Hartnett White, the former head of the Texas Commission on Environmental Quality; Patrick Morrisey, the Attorney General of West Virginia; and Republican Rep. Andy Harris.
Some of those candidates may be out of contention for the job now. Morrisey is currently running for the Senate in a competitive race, and Trump has endorsed him. White, meanwhile, was appointed by Trump to chair the Council on Environmental Quality after she was passed up for EPA chief, but the White House withdrew her nomination over concerns that the Senate wouldn't confirm her. The rest of them, however, could plausibly be in contention to take over Pruitt's job.
One thing's a near-certainty: Trump won't appoint an EPA chief who views climate change as serious, man-made problem that requires immediate government action to stop. Trump himself has said that global warming is a hoax "created by and for the Chinese in order to make U.S. manufacturing less competitive," and has signed several executive orders dismantling EPA protections and regulations.
More to the point, most of Trump's environmental appointments — Pruitt, White, EPA transition chief Myron Ebell and regional EPA administrator Cathy Stepp, to name but a few — are climate change skeptics, and Politico reported in March that at least 20 agency chiefs and advisers in the Trump administration are climate change skeptics or deniers.
In his resignation letter, Pruitt suggested that God wanted him to serve as EPA administrator, and thanked Trump for appointing him.
"I believe you are serving as President today because of God's providence, Pruitt wrote. "I believe that same providence brought me into your service. I pray as I have served you that I have blessed you and enabled you to effectively lead the American people. Thank you again Mr. President for the honor of serving you and I wish you Godspeed in all that you put your hand to."