What Toff Really Got Paid For Her 'I'm A Celeb' Stint Is Far From What You'd Think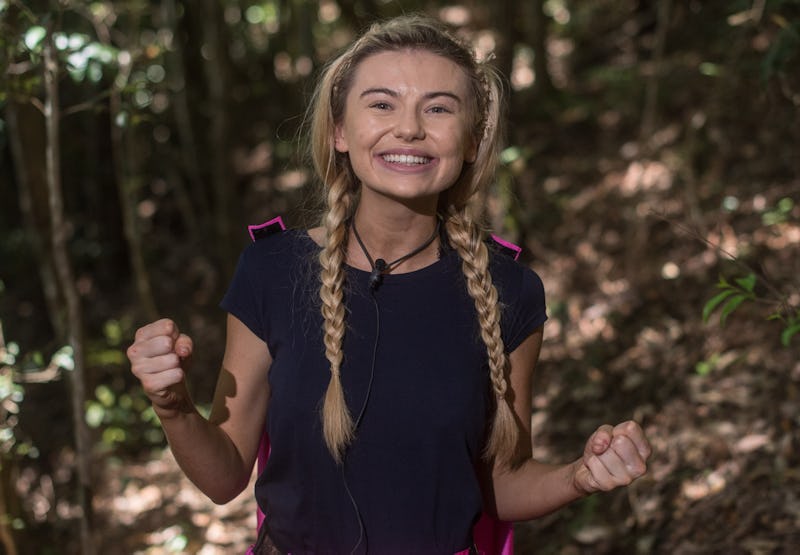 James Gourley/ITV/Shutterstock
A new planeload of celebs are set to be parachuted into the jungle for another year, but what about those who came before them? The year goes by so quickly that by the time I'm A Celeb rolls back around, you can't quite imagine getting used to the new batch of celebs. But you do. And usually, by the time the lineup's been announced, you've almost forgotten about last year's unfortunates. And now the run up to the next season is gaining momentum, you might already be trying to remind yourself — who won I'm A Celeb in 2017?
A shocked Toff, AKA Made In Chelsea's Georgia Toffolo, got the champagne and fireworks reception last year. Although her 2017 crown didn't surprise anyone watching at home. She was the odds-on favourite to win last year, according to the BBC. And even though you'd think someone nicknamed 'Toff' would make plenty of bank, she reportedly told Ant and Dec after her win was announced that her fee for surviving the jungle definitely wasn't unwelcome, since she admitted: "I haven't paid my rent." That was also the same thing she said when she got back home during an interview on Good Morning Britain on Dec 11.
"First thing I said was, 'Mum, mum, I haven't paid my rent," she told hosts Susannah Reid and Piers Morgan. But, according to Cosmopolitan, she didn't even make any buck from winning the jungle. All of the celebs are paid for taking part, but the winner doesn't get much else other than that champagne reception and maybe, if they're lucky, a presenting job. In Toff's case, that rent really must have needed paying, since, according to The Sun, Toff made the least dosh out of any of last year's contestants. She reportedly took home £13,000, which is quite a gap compared to fellow contestant, Amir Khan's alleged £300,000 takeaway. I've reached out to ITV who said they don't comment on contestants' salaries.
The Sun also stated that Toff's £13,000 may well be "one of the lowest the ITV programme has ever paid a contestant." A source close to her admitted to The Sun that the "ITV bosses have got her for a bargain price." She's since started recording vlogs on her Youtube channel, which she films in the very plush looking house that she was hardly able to pay rent for last year. She's since given viewers a glimpse of the day in the life of Toff, her makeup routine, as well as a guest video starring the one and only Dr. Alex from Love Island.
Now the countdown to the next series is well underway, who knows who will be walking down that dodgy looking suspension bridge with the jungle crown? If last season was anything to go by, you can expect some well known faces, and some well, lesser known faces — which maybe a bit like the Toff — you'll come to know and love very quickly. The start date's been announced, as The Mirror reports, and it comes sooner than you'd think. Look out for this year's winner from Nov. 18.