Here's What You Can Order From Whole Foods Through Amazon Prime Now On Thanksgiving Day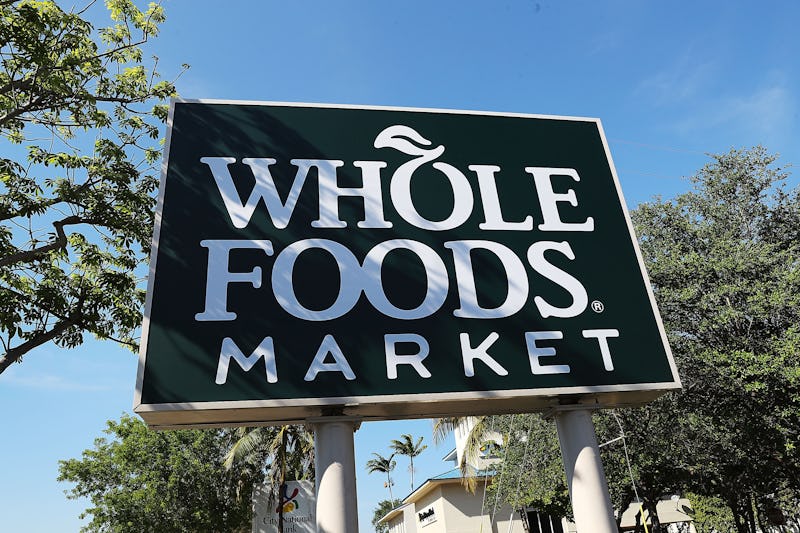 Joe Raedle/Getty Images News/Getty Images
You're standing in your kitchen over a hot stove when it hits you: you're missing an ingredient. If you've ever cooked a big meal you've been there. Most of the time you can just hop over to the grocery store and grab what you need, but what about when you're pressed for time? A horror story for the modern American home cook is this happening on Thanksgiving. Luckily, now even if you do forget to grab that bottle of rosemary, you don't have to worry — Whole Foods will deliver through Amazon Prime Now on Thanksgiving Day, up until 2 p.m.
The service is being provided through Amazon and Prime's collaborative service: Prime Now. Though Amazon Prime may pretty much be a household name, you may not have taken advantage of this fairly new aspect yet. Prime Now offers Whole Foods delivery to more than half of the continental United States and Washington, D.C. For those of you lucky enough to live in its service area, this means you have have your groceries delivered from one of the country's most popular supermarkets in an hour with one click of a button. Prime Now has been around for a few years, but is still virtually unknown to many; Earlier this year, Cowen & Co., a financial management service, discovered only one in four Prime members had used Prime Now.
In 2014, Amazon began the service in New York City. Using a smartphone app, customers were able to order from an array of 25,000 household items, and have them delivered to your door within an hour for a $7.99 delivery fee. Even sweeter, if you had more time to spare and could stretch it to two hours, the delivery fee was waived. Nowadays Prime Now offers not only delivery of household essentials, but restaurant meals, and groceries from Whole Foods to residents of various cities around the U.S.
But, delivery on Thanksgiving? A national holiday? Unheard of. Unless, of course, you are one of the biggest companies in the world. According to Food & Wine, Amazon will deliver groceries from Whole Foods, and emphasized in its announcement, "for customers in select cities, you can even get beer, wine or liquor delivered right to your door for when you need a little something extra to get you through those family get-togethers!" The idea of running of booze before dinner even begins sounds a little worrisome, but who knows what could happen when the entire family is under one roof.
It would appear Amazon is looking ahead to a pretty busy holiday season. In the past, if you wanted free shipping through the website, you needed to sign up for an annual Prime membership. But, this year, you don't need to be a Prime member in order to get your items delivered for free by Christmas. Further, there is no minimum order amount. A press release from Amazon explained typically, shoppers without Amazon Prime memberships would need to spend a minimum of $25 to have their items shipped for free. Now customers could theoretically order one small item — a pair of socks, for example — and have it shipped free. The only caveat is shoppers need to place orders five to eight days before Dec. 25.
So, as long as you don't save your holiday shopping until the last minute, you need not worry about paying for shipping. You can still wait until the last minute for Thanksgiving, though. Prime Now will be delivering those forgotten last ingredients until 2 p.m. Nov. 22. Happy shopping!